Snow days no joy for some working parents
When snow and ice brought two school-free days to De Soto last week, students flocked to the De Soto Community Center.
De Soto High School students Tommy Elmer, Devin Higginbotham and Tyler Phongsavath played soccer Thursday afternoon in the gymnasium.
"Most of us are here every day after school anyway," Tommy said. "We'll probably stay until it closes."
Students in rural areas like Eudora and De Soto communities have to be creative in finding things to do, while their parents have to be creative in making sure someone watches their children.
De Soto Parks and Recreation director Jay Garvin said the center didn't have any special activities in case of snow days, but that the gym was open to the public.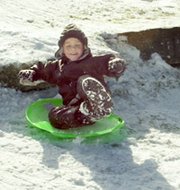 "We do have adults that come in from time to time," he said. "Once school gets out, they come flying down here for activities. Once they roll out of bed, we'll usually see them here by late morning."
Garvin said the gym was staffed, but only to make sure students follow rules and not to provide babysitting.
Eudora students don't yet have the luxury of an indoor community center for snow days.
Barbara Kruger, an in-home childcare provider who is able to stay home with her children on snow days, said many Eudora students went to parks.
"There are some really good sledding areas around town," she said. "We used to live over on the west side where there's a wonderful sledding hill."
Kruger said she didn't mind letting her daughters go to Bluejacket Park alone, since many families gathered there to watch over children.
"A lot will go out sledding on Church Street on the overpass," she said. "Personally I think that's dangerous."
Eudora's new Parks and Recreation director Tammy Hodges said providing activities for snow days would be one of the functions of the new community center.
"Next year, we'll get 'No School' play days and snow days," she said. "Any time the school is out, we'll offer a play day."
Programs would include after-school activities for latchkey kids, as well as summer day camps.
"Right now we hardly have any facilities to do anything like that for those kids that don't have anywhere to go," Hodges said. "The parents have to take off work if they don't have anyone to take care of them."
De Soto Multi-Service Center director Jodi Hitchcock said school cancellations during snow days presented a problem to some families when the parents still had to work.
"I'm sure there are a lot staying at home with a phone and being told not to answer it," she said. "I know people do that, because there's nothing else they can do."
Hitchcock told the story of one mother who was able to take her daughter to a neighbor, since De Soto is a small, close-knit community. Sometimes families with one non-working parent or a parent who is also able to get off work will help take care of another family's children for the day, she said.
"I think a lot of families and neighbors do a lot," Hitchcock said.
Kiddie Korner, De Soto's newest daycare center, was actually less full on the snow days last week.
Co-owner Brenda Clark said the center typically takes children younger than school age.
"We do have some whose daycare follows the school system, so it was closed today," she said.
There are currently about 35 children in the 60-capacity center, and about seven kindergartners were able to come during the snow days last week.
School officials in De Soto and Eudora take seriously the decision to cancel classes because of inclement weather days.
Eudora district communications coordinator Kristin Magette said district officials attempt to contact parents early so plans can be made.
A new Listserv computer program helps inform parents via e-mail when administrators decide to cancel school activities or classes.
"My first priority when I hear that the school is closed is to get a message on that Listserv," she said.
Magette said the reason schools close is because of concern for students and staff.
"If we can't run our transportation system, that's our No. 1 challenge when we look at whether or not to close school.
"We don't want to put bus drivers on the road if there's a chance (students) could get hurt."
De Soto district communications director Alvie Cater said all Johnson County superintendents participated in a conference call last week to discuss weather concerns.
"It's not ever taken lightly," he said. "That's why all the superintendents in Johnson County get together, because they want to make the best decision possible."
More like this story