'

Team player' to head parade
Jodi Hitchcock doesn't have normal days.
"This is not for someone who needs a pattern," the coordinator of the De Soto Multi-Service Center said. "It's a great thing I can deal with chaos.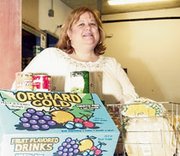 "Just when you get something planned, something changes."
Her days consist of trying to attend to a to-do list while intervening in unexpected emergencies, Hitchcock said. It might be someone with a medical problem who lacks the transportation or money to see a doctor or the means to buy needed medication. It could be a mother needing food to feed her young children or, on occasion, it's someone who wandered in off the highway broke and desperate, she said.
Max Atwell has seen Hitchcock deal with those situations.
"She just goes out of her way to help people," he said. "She's been doing it long enough, she knows who can help. She's on the phone working different angles."
That, Hitchcock said, was the secret. It's overused, but it does take a village, she said. It is her job to bring those resources to those in need, she said.
"There are people in the community there when I need them," she said. "When I need food or money, there are people I know I can call. I can't even imagine how many miles Max has put on his pickup taking people to medical appointments.
"I couldn't work with a better school district. The churches are very supportive."
After being considered several times for the honor, Hitchcock was selected as the grand marshal of the 2006 De Soto Days Festival.
"She just has a passion for her work," Atwell said. "She may live in Lawrence, but she does so much here she doesn't have to do. She's done a whole lot for a lot of people."
De Soto Mayor Dave Anderson said Hitchcock was the social glue that kept the community together.
"Jodi's the kind of person who has a lot to give," he said. "She's blessed that way and gives in a global and universal way.
"She never says no, but she understands how communities work. She realizes not all problems can be solved in one crack."
Hitchcock came to the De Soto Multi-Service Center in May 1997 as the county's first professional social worker. She inherited an office in the De Soto Library unequal to the needs of the center."
She had to make a professional adjustment, as well.
"My career had been in geriatrics," she said. "It was a huge change for me.
"The only kids I had worked with were Boy Scouts."
But that did provide valuable experience, Hitchcock said, as she was able to apply some of what she learned working with Boy Scouts in a Colorado mountain adventure camp to De Soto.
"What we preached there was always leave the campsite better and cleaner than how you found it," she said. "That's how I feel here -- leave things and people I work with better than I find them."
After a year there, her office was one of the first to relocate to what is now the De Soto Community Center, sharing offices in the yet-to-be remodeled building with city inspectors Larry Baxter and Doug Smith.
"I taught them a lot," she said. "It was very interesting, to say the least."
Since that time, the county has placed professionals in all its multi-service centers, Hitchcock said. There has been an expansion in programs on the federal, state, county and city levels to help those living in poverty, she said.
The added resources are needed, Hitchcock said. Poverty exists even in prosperous Johnson County, made worse from such national calamities as Sept. 11 and Hurricane Katrina.
Her caseload tripled in the past three years, Hitchcock said, and doesn't appear to be abating. Through the first seven months of 2006, she has provided $11,000 in utility assistance and $8,000 in mortgage or rental assistance.
"I think not only am I seeing a change in the amount of people, but also the kinds of issues," she said. "I'm seeing a lot more complex issues. There's not a lot of easy fixes.
It takes a lot of effort with some of the individuals and families we're working with."
It can be frustrating watching people continue to make bad decisions, Hitchcock said. But she said she was rewarded by small victories with individuals she helped or through working on such projects as FlexRide, which brought bus service to De Soto.
"I'm on my second generation here," she said. "I think what's most gratifying is seeing some of those kids graduate and go on.
"What humbles me most -- what really amazes me -- is the resilience of some of those young kids. They've seen so much in their young lives, but somehow make it through with gratitude and have the most wonderful personalities."
It is her upbeat determination to help those in need that makes her a resource to De Soto, Anderson said.
"She works for the county, but she really works for us," he said. "She really has adopted us in many ways."
The affection goes both ways, Hitchcock said.
"There are days I'm more a De Sotian than a Lawrencian," she said. "I feel very at home here."