Although school doesn't start for another week, but learning has already started at De Soto High School.
Early Monday morning, the 101-member De Soto High School Wildcat Marching Band took over the school's hallways for practice. Band members will spend the week learning to march Wildcat-style.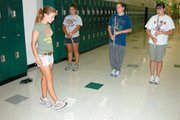 This year's drum majors, seniors Leslie Hodges and Tanner McNamara and junior Scott Ireland, said they anticipate another year of excellence.
"Thus far, it looks like we're in for a great year," Ireland said. "The band is one big family, and we just like to perform and have fun."
The band's first performance will be the Sept. 1 football game against Ottawa, where they'll be performing the music of Paul Simon. The next day, the band has to be ready for the annual De Soto Days parade.
To get ready, the students have to learn proper marching technique, how to hold their instruments, how to stay in line and in step and how to follow commands. And of course, they have to learn the music.
"For the freshmen, the most challenging thing is uniformity," Ireland said. "But they're doing a great job."
Hodges said the band's trip to Washington, D.C., earlier this year helped serve as a refresher course for returning band members.
"It's coming faster since we went to Washington," she said. "We didn't have an entire year to forget."
Clarinet section leaders James Ingalls and Rebekah Gulley said the new marching band students were catching on fast.
"I think that probably learning to step off and stay in line in the parade will be the hardest," Ingalls said. "And they have to know the music. We'll be performing in a pep assembly on the first day."
Sophomore alto sax player Hana Lindbloom said the most difficult thing to learn was marching while playing an instrument.
"It's just hard to get used to it," she said. "You really just have to memorize the music."
Hodges is anxious to prove her skills as a drum major this year. The drum majors all earned their titles by auditioning last spring. They went to a Kansas University drum major band camp earlier in the summer.
"I think it's going to be hard to remember everything I know and what I'm doing," she said.
Ireland said despite all the pressures for performing well in the band this year, he was hoping for the best.
"We have an awful lot to learn, but it's going to be pretty awesome."
The marching band is having a golf tournament fund-raiser Saturday at Oak Country Golf Course in De Soto.
For more information, call Kent Dvorak at 583-3400.
More like this story