Voter apathy winner in county
The story of the 2006 primary election in Johnson County was evident Tuesday at the De Soto Baptist Church.
"Things have been pretty slow," election officer Max Atwell said.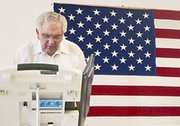 At about 1 p.m., 32 voters had marked ballots at the church, which was the voting place for De Soto residents living east of Lexington and west of Kill Creek Road and south of 91st Street.
Turnout in Johnson County for the primary was dismal. Just 14 percent of the county's registered voters participated, far less than the meager 20 percent Johnson County Election Commissioner Brian Newby was projecting last week.
Traditionally, low turnout in primaries, particularly Kansas Republican primaries, favors conservatives. That was mostly true in Johnson County where conservatives fared better than they did statewide.
"I would be lying if I said I wasn't disappointed in results here in Johnson County," said Boo Tyson, executive director of the Prairie Village-based Mainstream Coalition. "But things did go better around the state.
"Frankly, Johnson County people worked on those races."
The Mainstream Coalition teamed with such organizations as Take Back Kansas in support of moderate candidates statewide, Tyson said. Moderates' incumbents turned back conservative challenger Tuesday in key statewide races and appear to have ended conservative control of the Kansas State Board of Education.
Riding a 7,000--vote majority in Johnson County, Chuck Ahner bested three opponents in the Republican primary in the 3rd U.S. Congressional District. He will face four-term Democratic incumbent Dennis Moore in November.
In a seven-way race for the Republican nomination for governor, Jim Barnett gathered 39 percent of the vote statewide to win the right to challenge Gov. Kathleen Sebelius. Johnson County voters, however, favored another conservative candidate, Ken Canfield. Barnett also lost out in the county to Robin Jennison.
Conservative Republican Eric Carter defeated Sandy Praeger by 4,186 votes in Johnson County, but saw his bid to unseat the incumbent Kansas insurance commissioner fall short statewide by 31,633 votes.
Kansas Secretary of State Ron Thornburgh easily turned aside a challenge for Olathe Republican Kay O'Connor. Thornburgh won with more than 70 percent of the votes statewide and won in O'Connor's home county.
The loss means O'Connor will return to represent De Soto and other Johnson County cities in the Legislature next year.