De Soto old-town revitalization plan evolving
Consultant promises alternative to Miller Memorial Park sale proposal forthcoming
Delores Weller's introduction of her and her husband, Dean, Friday to Marty Shukert in De Soto City Hall included a question. Was, she asked the city's planning consultant, he going to move Dean from his downtown garage?
"I'm going to move him?" Shukert said, arching his eyebrows.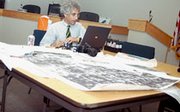 He is powerless to move any business in De Soto even if that was the intent of revitalization, Shukert said. Furthermore, he explained Friday, the goal of the downtown revitalization program was to preserve what is working downtown, and he certainly didn't harbor intentions of moving Dean Weller's vintage car garage.
"I'm sorry anyone would think something like that," he said. "Those are exactly the kinds of precious things that are really important to preserve."
The revitalization effort is looking at an area east of Ottawa Street between the Kansas River and Kill Creek that Shukert has characterized as essentially a peninsula.
Friday's work session was to focus on the two blocks of 83rd Street from Peoria and Shawnee, but Shukert said he also addressed concerns about a proposal he shared with the De Soto City Council at the end of his June visit. That plan proposed selling Miller Memorial Park, which would be moved across Lexington Avenue to the area east of Morse's Market, and the city shop area to pay for other parts of the plan.
The plan, particularly the Miller Park proposal, didn't prove popular, as Shukert learned before and during his return last week. Far from being disappointed, he saw the response was a step in developing a viable plan the public would support.
"Ultimately, it's good because we want to hear different positions now and do things that are appropriate rather than really upset everyone," the consultant said.
Even while presenting the earlier plan, Shukert said there would be others. He is working on options that would allow Miller Park to expand by moving the ball fields to the site across the street. The new site would also have space for commercial development that would help finance its different aspects, he said.
He would return later this month to present the new options at a public meeting, Shukert said.
In addition to any plans for the garage, the Wellers were also concerned that the revitalization would try to impose an Overland Park type strip mall structure in De Soto. Shukert sought to assure them that, too, wasn't the intention.
Again, the goal is to address problems identified in earlier visits, he said. Chief among them was the lack of retail and office space in a downtown built to serve a city of fewer than 1,000 residents.
As a city planner, his interest is in extending retail and office opportunities without upsetting the district's scale and character that makes sense to De Soto, Shukert said.
"It shouldn't change," Shukert said. "The intent of what we're doing -- especially in the downtown area -- is how do we preserve its feeling?
"We want to manage growth in a way De Soto can benefit from it without becoming something it isn't or doesn't want to be."
After the visit, Delores Weller said that although she and her husband were reassured about the garage, they remained skeptical. The revitalization effort ignored the reality that as a bedroom community, De Soto residents would continue to shop in the county's larger cities where prices were lower and selection greater, she said.
She was also concerned the proposal would build more expensive apartments and town homes at the expense of removing lower-income housing now available, Weller said.
But Weller said a bigger concern was where the money would come from to pay for the improvements Shukert develops. Many older residents and business owners continue to fear they will be asked to pay for a revitalization effort that would undermine the small-town aspects of the city they've enjoyed, she said.
One of his Friday afternoon visitors, Jenny Wheat of Wheat Photography, said it was the small-town flavor of downtown that drew her to De Soto when she opened her shop this spring. The downtown's district future must make efforts to attract other specialty and boutique-style shops, she said.
Dennis Erwin also expressed support after his visit with Shukert. Erwin said he understood the June plan wasn't meant to be the only option.
During his visit, Shukert sketched out eight to 10 ways his property on the northwest corner of 83rd and Peoria streets could be developed.
"I came down here to give my two cents with an urban planner," he said. "It's rare you get an opportunity to sit down with someone like this to discuss ideas."
More like this story