Murdock sees positive in Medicare drug plan
Three months since the start of the federal government pharmaceutical drug program known as Medicare Part D, De Soto pharmacist Lori Murdock gives the program a qualified endorsement.
"I think it's been good," the owner of De Soto's Cedar Creek Pharmacy said. "Starting out the year, it was very difficult.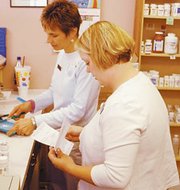 "It's made drugs more affordable for seniors."
The program which provides seniors 65 and older and those qualifying for Social Security benefits prescription drug subsidies has been characterized as too confusing. Of late, there has been criticism that insurance policies requiring smaller premiums favor large drug store chains over smaller owner-operated stores.
The concern in the latter criticism is the reimbursement rates insurance offer for some drugs barely exceeds their costs and isn't enough to cover the pharmacists' expenses.
Murdock said March was typically one of her busiest months and she hadn't had time to comb through her records closely to determine if that was true for her. But, she compared the effects of the program to a convenience store owner who lowers the price of gas -- more gas is sold but at less profit per gallon.
"It had brought in new customers who couldn't afford to buy prescription drugs or who were forced to order by mail," she said. "The flip side is reimbursements are lower."
Reimbursements from drug companies can take four to six weeks, creating cash-flow problem for small pharmacies who have to pay their supplies in much shorter periods.
Murdock said she adjusted to the changeover in January and February and now her cash-flow situation was getting better.
As for the difficulty of the program, Murdock said that was a reflection of the many plans available and the challenge some seniors have with online registration.
"Any time you're dealing with insurance and formularies, it's going to be that way," she said. "The concept is pretty easy. The difficulty is there are so many plans to choose from."
Murdock said the key for each individual senior was finding a plan with the right formulary, or list of drugs the insurance company covers. She said she had helped many seniors with that decision and remained willing to do so.
Seniors are facing a May 15 deadline to sign up for the program. Those eligible but not enrolled by that date face a 1 percent increase in premiums and the penalty increases a percentage point for each month an eligible person doesn't enroll.
De Soto seniors will have an additional resource as the date approaches.
Stafford Training and Consulting, through funding from the Kansas Health Consumer Coalition, will offer Medicare Part D outreach assistance to De Soto residents from 11 a.m. to 2 p.m. Tuesday and April 25 at the De Soto Senior Center, 32905 W. 84th St.
Those interested in assistance are asked to bring a list of current medications.
Murdock said the program recognized circumstances change. She said participants can change plans from Nov. 1 to Dec. 31 of each year. Once again, she said she would work with seniors trying to select the right plan during that time.
Although Murdock gave the Medicare prescription drug plan a qualified endorsement, she has concerns.
"I wonder how the government is going to pay for such a plan," she said. "I just don't understand how they are going to pay for it year after year.
"My concern is whether this is going to stay around. A lot of people who lost pension plans were forced to go on Medicare Part D. That's my concern."
More like this story