Engineered Air considering expansion
With business good and expected to get better, Engineered Air is considering expanding its De Soto plant.
The company fabricates custom ventilation and air conditioning systems for large commercial and institutional buildings. De Soto plant manager Don Gray said an improving economy was creating a demand for Engineered Air's services as companies look to expand and public entities invest in new facilities. In addition, new code regulations have generated business and the company has orders from casinos being rebuilt on the Gulf Coast.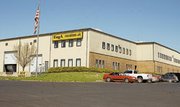 The company is looking at several ways to meet the demand, Gray said, including an expansion that would add about 25,000 square feet to its 110,000-square-foot De Soto plant.
"We're growing pretty rapidly," he said. "We bring in some sub-assemblies from Canada. We're looking at adding on to the building so we could build those here."
Engineered Air is also looking at building a new facility in Texas to handle that production, Gray said. But he added the company would like for it to be in De Soto because of the existing "infrastructure."
"Our United States headquarters is here," he said. "It just makes sense to have it here rather than somewhere else in the United States."
The decision will be made in the next couple of weeks, Gray said.
The expansion would require the hiring of 12 additional people immediately and the hiring of about 30 people in the next two years, Gray said. Engineered Air currently has about 200 employees at the De Soto plant.
Engineered Air has approached the city and the state about possible incentives for the $2.5 million capital expansion, Gray said.
De Soto City Administrator Patrick Guilfoyle told the De Soto City Council that company representatives understood the city wouldn't offer the 100-percent abatement it got when it first came to De Soto 14 years ago.
Guilfoyle said he suggested to the Engineered Air representatives the council would be open to a 50-percent, 10-year abatement, which was in line with the council's announced although unwritten policy. Council members agreed they would consider those terms.
However, Guilfoyle said existing De Soto companies like Engineered Air might be in line for slightly better terms.
The city administrator is working with De Soto Chamber of Commerce and Economic Development Executive Director Sara Ritter to craft a written incentive policy to present to the city council in the coming weeks. Guilfoyle said he would propose that some additional incentives be offered to existing companies.
"A lot of policies give a bit more for existing businesses," he said. "The idea is you deal first and foremost with the companies you have and then try to attract new business."
Gray said the 50-percent, 10-year abatement would be considered as the company made its decision.
"It certainly helps us with the decision to expand here," he said. "It's not the only factor, but it certainly helps because there are other cities that offer the same type of thing."
Something else the council might consider is that the proposed expansion could be a prelude of a larger one. Gray said Engineered Air was considering adding an additional building in De Soto of about half the size of its current plant to meet production demand.
"We have enough room to do that," he said. "That is one of the options. We feel within the next two years we will add another plant in the U.S. of about the same production capacity as this. It could be here or somewhere else."