Wiltings mark 10 years of changing lives
Although downtown De Soto isn't exactly alive with activity, one organization has become a popular gathering place for teenagers.
Youth from De Soto can be found at The Crossing on most Tuesday and Thursday evenings playing basketball, billiards or enjoying snacks while they discuss religious issues.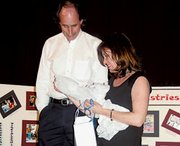 Since 1995, Bill and Donna Wilting have operated De Soto Youth Ministries as an independent, not-for-profit organization.
In front of friends, youth and supporters on Sunday, the De Soto Youth Ministries Board of Directors presented Wilting and his wife, Donna, with gifts of thanks for their service. One gift was a picture frame to hold photos of the organization's sponsored mission trips.
Bill Wilting doesn't think his 10 years of showing De Soto area youth a path to God can be summed up in one picture. He said he doesn't have pictures of some of the greatest moments in De Soto Youth Ministries, like the many times youth have sought out their ministry because they had been kicked out of their homes with no place to go. Wilting doesn't have pictures of that, he said, or the night the "town druggie" decided to accept Christ on the back of a bus during a mission trip.
"I could see him in the rearview mirror," Wilting said. "He kept saying, 'This is wonderful.'"
The Wiltings began their ministry work more than 16 years ago in western Shawnee and later fully incorporated a religious organization. The organization has four full-time employees who provide activities for middle and high school-age students throughout the area.
Their headquarters, The Crossing, 83180 W. 83rd St., in downtown De Soto has been a popular gathering place for teens since its renovation in 2001. The organization offers Bible study groups and takes students on mission trips around the world.
This year, the organization will have sent five groups of youth on trips that ranged from rebuilding Hurricane Katrina damage, presenting Christian-themed skits to children in Brazil or interacting with other Christian teens on ski trips.
"It's totally changed my life," said Katie Pratt of Merriam. "It just gives you some place to go where you'll be accepted no matter who you are."
Lawrence High School freshman Richard Christiansen said he began coming for the cheap pop and basketball games and stayed for the positive relationships.
"My dad helped to put up the roof, and I tagged along," he said. "They make everything fun. We have games, go on ski trips and snowboarding trips."
De Soto home school and Johnson County Community College students Amelia and Emily Hedge began coming to the group about three years ago.
"Whenever kids do come for the first time, they love it and they wish they had always been here," Emily said. "There really aren't cliques in this group. We're from ages 13 to 21 and from all over Kansas City."
Board member Lea Deo, Shawnee, and her late husband, Duane, were founding members of the De Soto Youth Ministries.
"This is a place where kids can always feel loved," she said. "A lot of times, they may come from different backgrounds, but it doesn't matter here."
Donna Wilting said she was particularly proud of the youth efforts to help clean out homes in Mississippi after Hurricane Katrina. A picture shows several feet of garbage covering the floor, countertops and kitchen stove. Wearing rubber gloves and face masks, the teens spent several days mucking out dirt and garbage from the homes.
"There are people down there charging $25,000 for what our kids did for free," she said. "As hard as they worked, many of them said it was the best trip they had been on yet."
The youth ministries organization took two groups of students to clean up after the hurricane.
Bonner Springs High School sophomore Maisie Crayton was one of the youth who attended the trip over spring break.
"We went to help rebuild a church that had been completely destroyed," she said.
Shawnee Mission Northwest senior Anna Mulder said she was shocked by the devastation.
"After eight months, you'd expect people to be moving out of the trailers, but they're still there," she said. "Whole bottoms of houses had washed out."
She was part of a group that helped clean up a Mississippi church, because its congregation had been busy cleaning out their homes.
"I didn't expect it to be as bad as it was," she said. "All you hear about is New Orleans, but it hit everywhere else just as bad. What really hit me was the congregation -- they were so happy we were there because they felt like everyone had forgotten them."
Bonner Springs volunteers Jim and Jean Walkenhorst began helping out on youth nights at The Crossing.
"I absolutely love it," Jean said. "I've been on mission trips and it's a wonderfully uplifting experience. I can't say enough wonderful things about the people who work here and the changes in the hearts of young people."
More like this story