Out in the Barn adds hours, contributors
As they stood in a room filled with home-decoration objects they and their friends made for sale at Out in the Barn, Laurel McElvain talked with Beth Burkhard about making cloth-covered lettering.
Sharing decorating ideas is what Out in the Barn is all about, McElvain and Burkhard agreed. In the case, the idea combined McElvain's interest in lettering with Burkhard's expertise in sewing.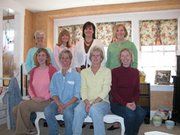 The two women are part of the increased participation of local crafters and artisans at the store that opened six months ago in the empty house at 33160 W. 83rd St. Out in the Barn's Carol Burnett said the line up of those with items at the store now includes Misty Kelley, Grace Mefford, Jan Krehbiel, Lisa Shipman, Carrie Dvorak, Carrie Dickerson, Wendy Pinne and Natalie Walton.
Burnett and Kelly Hayden opened the shop Labor Day weekend to market the "repurposed" furniture they made at their respective barns. The store did well with its hours limited to the first weekend of every month, Burnett said.
The schedule changed with the coming of the added crafters. Burnett said Out in the Barn would now be open from 9 a.m. to 4 p.m. every Friday and Saturday.
To make room, Out in the Barn has also expanded into all the craftsman-style house's rooms.
"We've got a whole house full of stuff," Burnett said. "People like the fact when they come in here, they see something different every time."
The new line up of contributors should guarantee a continued freshness of inventory. Kelley and McElvain make hand-painted signs with such messages as "simplicity," Burkhard specializes in window treatments, Krehbiel upholsters, Pinne crafts quilts from sweaters, Walton and Shipman paint flowers on old windows, Mefford fashions therapeutic body wraps, Dickerson does embroidery, and Dvorak vends greeting cards with her photography and inspirational messages.
The women bring different backgrounds to their work. Shipman has two college art degrees, and Dvorak brought her experience as a journalist to her photography. On the other hand, McElvain and Shipman say they are self-taught.
If customers can't find something they like at Out in the Barn, the women said they welcome custom work. In addition, they will accept used furniture that would otherwise be discarded for reconditioning.