Close proves good enough in Cats' first win
Twenty-one shots on goal and near complete control -- even domination in the second half -- and De Soto scored just one goal.
Still, it was enough Monday as the Cats (1-2-1) won their first game of the season, beating Immaculata, 1-0.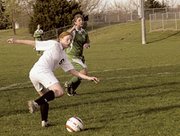 "I'm glad we won that thing," De Soto coach Darren Erpelding said. "But, I'm not satisfied with it."
It was a relief, especially considering the 9-0 pounding the Cats took Friday against Topeka High, but there was still obvious room for improvement Monday and Erpelding said the process needs to start with the offense.
De Soto scored its only goal early in the first half when Jeni Hill found Nicole Radcliffe. Outside of that highlight, it was a mostly back and forth period.
The second half was entirely different. Struggling to score goals all season, and even to get off shots against Topeka High -- De Soto logged just two attempts against the Trojans -- the Cats finally found some offensive swagger.
Radcliffe, held without an attempt Friday, launched five shots and teammate Danielle Price booted nine.
Somehow it was all for naught, however. Price hit the crossbar so squarely on one attempt that the ball nearly bounced all the way back to her and a seemingly endless stream of balls doinked off the uprights, sailed just inches over the goal or were snagged at the last second by Immaculata's goalkeeper.
"When we get that many shots on goal, we have to score. I wish it had been 4-0. I would have felt a lot better," Erpelding said, adding that as far as he's concerned, close in no way counts. "I want it in the back of the net."
De Soto's defense rose to the occasion several times late in Monday's game, helping goalie Megen Bedford to her second shutout of the season. Carrie Buser and Hannah Konetzni each stopped key Immaculata drives inside the game's final 10 minutes.
But the defense, like the offense, still needs a face-lift, Erpelding said.
Monday's solid performance came only days after Cat defenders could do little to stop the Trojans. Topeka High sophomore Ashley Ukena had four goals and logged one assist while senior Anne Schafer and freshman Laura Salvatore each scored twice.
"Topeka High was bigger, stronger, faster and just more skilled. They were just flat out a better team," Erpelding said. "We have a long way to go with our defense. I'm not comfortable with it. We have a lot of holes."
Erpelding said filling those holes could result in a new-look lineup Thursday when the Cats play at Lansing.
There, he said he hopes to find what's been eluding the team to this point.
"With the win the attitude is better and the team is a lot happier, but it just doesn't seem like there's that extra step like last year," he said. "It's just not there yet. I have to find it. I have to find it again."