Burgweger, Goleman mount surprise attack
There was more than one thing about it that defied logic.
First, Chesney Burgweger simply hadn't practiced the triple jump very much. She ran cross country in the fall and had spent more time this spring working on her distance times than she had mapping out her jumping technique.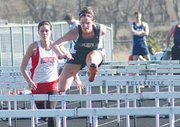 On top of that, Burgweger wasn't really too incredible at triple jump a year ago. Sure she has the body -- the tall, skinny, long-legged look of a successful track and field athlete -- but first place?
Burgweger leapt past all expectations Friday, winning the triple jump with a leap of 31 feet, 7-1/2 inches as the De Soto track team opened its season amid a flurry of surprises at the Baldwin Invitational in Wellsville.
"I'm pretty excited since it was my first meet," Burgweger said. "I hope I can improve even more."
Improving seems likely, too. Splitting her time between jumping and distance running, the De Soto sophomore said she practiced the event just twice before Friday's meet. It's not a lack of dedication, though.
Track coach Chris McAfee said Burgweger took up distance running in part to help build strength for the triple jump.
"This shows she definitely got stronger," he said. "From all of the meet results I've seen, that was a very competitive jump and it would have been competitive (anywhere).
"We have a lot of techniques left we can do," he added.
Burgweger's gold-medal triple jump proved to be the centerpiece achievement on a day that saw plenty of Cats turn in surprising results.
Perhaps the team's overall finish topped even her jump. De Soto came in second, one point ahead of a respected Baldwin team.
Thanks to big days from Jackie Goleman and Sara Lambert, the girls team finished well ahead of its expected slot.
"We weren't really expecting that much out of them," girls coach Brian Dinkel said. "We figured Eudora and Baldwin would be right there at the top, and when we found out we ended up beating Baldwin, we were pretty surprised and obviously pleased."
Goleman picked up three medals, winning the high jump and finishing second in the two hurdles races.
Lambert offered a similar performance to Burgweger's, though she wasn't able to capture first. The junior outdistanced her previous javelin best by about 15 feet, launching a 116-11 toss to finish second.
"Baldwin has a very solid program and we competed with them," McAfee said. "I was looking back on it to see if we got any soft points anywhere where in another meet we couldn't count on points, and there wasn't any place I saw, so that's a good indication of where we are."
The boys team was led by its running department as Tanner McNamara, Adam Justice and Chris Dvorak accounted for the majority of De Soto's points.
McNamara won the 3,200-meter run with a time of 10 minutes, 38 seconds and Dvorak finished third, barely two seconds behind.
Justice, meanwhile, placed second in the 1,600 and third in the 800. Dvorak was also fifth in the 1,600.
Luke Krehbiel also medaled in multiple events, finishing third in the 110 hurdles and fourth in the 300 hurdles.
De Soto is next in action Thursday as the Cats will stay close to home for a predominantly Class 5A and 6A meet at Mill Valley. Field events start at 3:30 p.m.