Trio leads boys to 4A regional crown
HIAWATHA-- De Soto cross country coach Chris McAfee piled on his boys team, questioning their heart and attitude after finishing a disappointing third at the Frontier League championships.
Saturday the team had a little something to say back.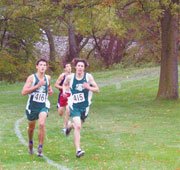 Message received.
The boys team dominated the regional championship at the Hiawatha Country Club, earning its third-straight trip to state with a resounding victory.
"I'm speechless. It was really cool," McAfee said. "We definitely took a different approach this week."
Tanner McNamara, Adam Justice and Chris Dvorak led the Wildcats, grabbing control of the meet from the gun and dominating like the Cats haven't done all season.
The trio ran together in the lead pack for most of the race before McNamara broke free to become the first Wildcat regional champ in McAfee's time. Justice unloaded a late sprint to finish second and Dvorak ran the best race of his career, finishing fourth.
Alex Wayne came in 14th, Jerin Riffel 22nd, Colin Jokisch 25th and Brendan Hudson 30th.
All were instrumental in the win.
"It was a team effort," McAfee said. "It was a lot of our guys packed in front of the second-, third- and fourth-place teams. It took one-through-seven to do it today, and they did. It was really cool."
The victory was sweet for McNamara, who missed a substantial amount of training early in the season while suffering from whooping cough.
He was De Soto's top returning runner in August, but never found his rhythm after four weeks of on-and-off work outs. He finally started to return to form Oct. 6 at Eudora, posting a personal best time of 17 minutes, 26 seconds, but couldn't match the effort a week later, finishing 17th in 18:03 at league.
He had no problem Saturday, running stronger than he ever has, knocking 20 seconds off his previous best and leading De Soto to a crushing victory.
"I felt really good when we were running next to each other, then he looked at me and just smiled," Justice said of McNamara. "He was just so fast today."
Justice also came through in a big way. Dogged by disappointing finishes all season, he had every chance to coast to the finish line again.
Cody Burns of Eudora joined the three Wildcats and the four led together for about the middle two miles of the race. But Burns and McNamara kicked with about 1,200 meters remaining and Justice and Dvorak slowly lost ground.
Dvorak caught Justice with nearly a quarter-mile remaining, and that was it, Justice said.
He found the extra gear and kicked back past Dvorak, up the final hill toward the finish line, and past Burns, logging the second-best time of his season.
"Right when Chris got past me, I got overwhelmed with anger," Justice said, laughing about the friendly rivalry after the race. "I just sprinted."
Dvorak's race was monumental as well. Often 20 and once at times as many as 40 seconds off De Soto's lead runner during the season, Saturday represented his initial foray into lead pack.
Pre-race strategy called for Dvorak to hang with McNamara and Justice as long as possible, and his gutsy performance helped slash the overall team score.
De Soto, with three of the top-four finishers, was 51 points better than the second-place team, Bonner Springs.
"Chris was a little bit hesitant about it," McAfee said, "but he ran well today."
Now the team hopes to improve on its seventh-place finish at state a year ago.
It's a definite possibility, especially given the momentum generated at regionals. McAfee said he's hoping for a bit more out of the lower part of the varsity roster, and is also optimistic about the return of Matt Woywod, who missed the race with bronchitis.
Two or three teams will battle for the Class 4A state championship, but the field is wide open after that.
"The way they ran today, with that kind of determination, if you can repeat that, we're going to have a top score," McAfee said.
More like this story