Starside walks for good health
Nearly 200 elementary students walked, ran and skipped around the school last week to celebrate good health.
Physical education teacher Toni Cook said participation in this year's "Walk for Respect" brought an overwhelming response from students. The theme for the day was respect -- for each other and for the students' own bodies.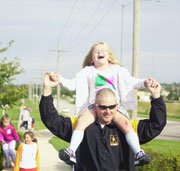 "We want to get kids out and moving," she said. "It gives them a chance to exercise outside of school and eat healthy."
Parents and teachers led students to walk around Starside, the district offices and De Soto High School for an hour, and then returned to the cafeteria for a healthy snack.
The day was a kick-off for a community service club, "Kansas Get Moving," which has students meeting outside of school for exercise once a week.
Media aide Jackie Johnson led a group of third-grade boys around the school.
"Most of them just want to run," she said. "Kids this age have so much energy, and they need to be able to use it."