Running mates
The Eudora and De Soto girls cross country team share a friendly rivalry, but goals that don't allow friends
One second, one point, one place -- virtually nothing in the cross country world.
That's the difference between the Eudora girls cross country team and its counterpart in De Soto.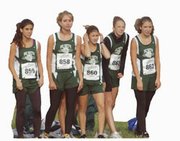 The Cardinals and Wildcats have butted heads all season, and never was the result more exciting than it was at Thursday's meet in Eudora.
Ten teams competed, 64 runners ran and Eudora won by a single point, offering a bit of payback as De Soto came out on top the first three times the teams met this year.
"It's just really good for our girls," Eudora junior Brittney Graff said. "It will give us a lot of confidence heading into league and regionals."
One point isn't even as close as it's been. De Soto won a tie-breaker once. Both teams will be jockeying to make up ground as they again run into one another this week at the Frontier League championship at Rim Rock Farm.
The most intriguing part of the rivalry -- the teams' competitive closeness fostering one more so than the schools' geographic closeness -- is how well they get along off the course.
Go to a cross county meet that both attend and you'll find the blue and red tent of Eudora pitched right next to the green and white of De Soto.
Less than 30 minutes after being edged by Eudora's Megan Ballock in a sprint for second place, De Soto's top runner, Morgan Frehe, was already laughing and talking about the race with the Cardinals' top guns.
Years of head-to-head competition and the friendly nature of both teams has fostered a deeply held mutual respect.
"It's a really fun rivalry," De Soto coach Chris McAfee said. "I like it. I have so much respect for Paul (Boone), so it's fun to compete back and forth with them."
The feeling's mutual.
"I really appreciate those guys because they do things the right way," Eudora coach Paul Boone said. "Our guys and gals, they look at De Soto and teams that are doing well, and that's what we want. So we keep pushing ourselves."
But make no mistake. The teams may share a bag of chips and a laugh before or after the race, but on the course, it's all dirty looks and elbows.
And until Thursday's race, it'd been all De Soto.
The Wildcats won the match-up in the first meet of the season, finishing second behind Baldwin thanks to De Soto's sixth finisher. Trish Roberts edged Eudora's fifth runner, Cara Seats. The teams finished tied, but Roberts' beating of Eudora's sixth runner tipped the scales.
De Soto again edged out the win when both teams went to Wamego, holding a two-point advantage in the 18-team, 122-runner race.
The Wildcats spread the gap a little with a six-point win Sept. 22 at Tonganoxie, but Eudora made all the ground up at home last week.
"We know everybody," Frehe said of Eudora. "I know every single name and I know if they have a good day. They ad a really good day."
The intrigue doesn't just lie in the narrow margin of victory either. The teams are evenly matched from top to bottom, giving runners on either side a specific target to beat or stay close to.
Eudora's Brittney Graff is the class of the clash, having bested all challengers from both teams every chance she's had.
Graff beat De Soto's top finishers by 36 seconds at Eudora and will compete to win the league individual title.
But it gets interesting fast.
Ballock's matchup with De Soto's Frehe has been a back-and-forth affair, the outcome of which will be critical Thursday.
The pair has split, two apiece, in the races this season with Ballock getting the last laugh at Eudora. Frehe had a small lead with 800 meters remaining, but Ballock, a 400-meter specialist during track season, showcased her speed down the stretch and outkicked Frehe by one second for second place.
"We know Brittney Graff is way out ahead of our girls. We can't run her down," McAfee said. "Morgan and (De Soto's second best runner) Lauren (Karnitz) sat for too long. We have to get away from Megan in the middle of the race or she's going to out kick you. When it comes down to that, there's not very many girls in the state that can kick with Megan."
What Eudora has at the top, De Soto has in depth.
Karnitz finished only seven seconds behind Frehe at Eudora. Eudora's Lauren Colman was 20 seconds further back, finishing fifth in the race, but De Soto's Chesney Burgweger was right on her heels in seventh.
The difference Thursday was in Seats, who finished 17th with a season-best time of 13:36. She was behind Carrie Wilbert and Andrea Young from De Soto, but ahead of enough runners (the Wildcats' sixth runner, Ali Wilcox included) to keep the Cardinal score lower than De Soto's.
"Our girls were really bummed about it, but then after the race they were over there talking to (Eudora) about it," McAfee said. "They have fun racing and competing against them. They were over congratulating (Seats). She ran outstanding today and that made a big difference."
The competition won't turn cut-throat Thursday or even when the team's match up again at regionals. Both have hopes of running down perennial favorite Baldwin. The top three teams at regionals advance to state, so there's room for everyone.
But at state, all bets are off. Two of the top teams in the area, Eudora and De Soto are also two of the top teams in Kansas.
And if they again butt heads at the Wamego Country Club golf course, expect all friendship to be checked at the pro shop.
"We've been putting a lot into it because we're so close to each other," McAfee said. "When we go to league, there's some places we can maybe put some points on their girls, and there's places where they can put points on our girls. It will come down to five or 10 seconds here or there."