Charitable feast
Starside Elementary students have record food drive for Thanksgiving
Starside Elementary fifth-grader Nick Hall struggled to lift a box full of canned goods onto a table last Thursday in the school's lunch room.
There the canned goods -- collected by students the past few weeks -- would be sorted by type for delivery to the De Soto Multi-Service Center.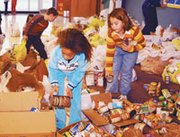 It was hard work, but Nick said it made him feel good.
"I can sit down on Thanksgiving to eat and not have to worry about anybody else going hungry," he said.
Students at Starside Elementary donated 2,800 cans of food to needy families at the De Soto Multi-Service Center this Thanksgiving.
Paula Henderson, counselor at Starside, said the food drive is the school's largest. Students collected cans and other nonperishable food items for two weeks.
Henderson said nacho parties were offered as a prize to classes who collected the most cans. The winners were Elyzabeth Nevarre's first-grade class with 232 cans from 20 students and Amy Grant's fifth-grade class with 239 cans from 20 students.
"They came up yesterday (Monday) and picked up the food," Henderson said. "So it is already being enjoyed by lots of families for Thanksgiving."
Helping sort the food last Thursday after school, fifth-grader Robbie Kemp said his mother picked out the canned goods she brought.
"The food drive is for people who can't afford to buy food -- because if they couldn't eat they probably would not have a happy Thanksgiving," he said.
Henderson said there was a possibility that a few families at Starside might also be recipients of the donation.
"That's why it's even more important," she said.
Jodi Hitchcock, coordinator of the De Soto Multi-Service Center, agreed.
"They're just helping out their fellow neighbor, which could be a friend at school," she said.
The Multi-Service Center donated a full Thanksgiving meal to several families throughout De Soto. Hitchcock said the food pantry was also replenished by students from the Shawnee side of the De Soto school district.
"We are in good shape right now, and I'm hoping this will get us through the next few months. The school have really come through for us."
Elvyn J. Jones, ejones@theworldco.info, contributed to this story.