Girls fifth at state cross country
The rolling green hills of the Wamego Country Club golf course didn't bring the De Soto girls cross country team the Class 4A championship it had dreamed of or the top-three finish it had hoped for.
It brought improvement, however, and at the end of the season, that's plenty to be thankful for, coach Chris McAfee said.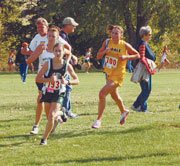 "I'm really proud," McAfee said. "At the beginning of the year, I didn't even know if the girls were going to make it to state. To come here and finish fifth is great."
Morgan Frehe led the girls as she did all season, finishing ninth in a time of 12 minutes, 23 seconds, earning her first state medal.
Frehe was initially lost in the scramble from the starting line, falling back from the race's leaders.
She rallied down the stretch of the two-mile course and finally fought her way back toward the front as the trail wound up and down the grueling hills.
"She wasn't quite where she needed to be at the beginning. She lost contact with the girls she normally runs with, and she had to work really hard to get back in there," McAfee said. "That was a huge confidence boost for her. She did very good."
Lauren Karnitz followed Frehe, just missing on a medal in 22nd place and Chesney Burgweger was 39th, helping the team to a fifth place finish.
Not perfect -- McAfee said third place would have been possible -- but still good, he said.
Baldwin won the meet with 70 points, placing four runners in the top 20 and Wamego, racing on its home course, placed two in the top 12 to finish second with 100 points.
El Dorado, considered a pre-race possibility to knock off Baldwin, was third with 104 and Eudora bested De Soto for the second-straight week with 106 points, claiming fourth place with the powerful performance of race champion Brittney Graff.
De Soto had 139 points, the lower portion of the Wildcat roster helping fend off Buhler, 140, and Colby, 142.
Senior Carrie Wilbert finished 58th with a time of 13:44. Freshman Ali Wilcox was 64th in 13:54. Senior Andrea Young was 74th at 14:06 and freshman Andrea Bosnak was 86th in 14:19.
Their races proved just enough to combat Buhler's pack-mentality. Buhler's best proved no match for Frehe and Karnitz, failing to place a single runner in the top 30. The Crusaders had five of the next 11, however.
Jessica Stephens of Colby was seventh, edging Frehe, and Paige Stephens was 21, just ahead of Karnitz, but the Cats stayed ahead as both Wilcox and Young finished ahead of Colby's fifth runner.
"Carrie finished the race really strong. Andrea did really well late in the race and Ali ran her heart out today," McAfee said. "Bosnak also ran very well. It was eye-opening for her first state meet, being a girl that ran junior varsity all year, but she really competed well."
De Soto's trip to state marked its third such accomplishment in the last four years. The Cats were a disappointing ninth last season and came in 11th in 2002.
Their best finish came more than 10 years ago when the team was third in 1993.
"I thought we had a chance to get into the top three," McAfee said. "If we had a couple girls move a little more, we would have had a chance, but I'm really, really pleased. We're a solid team and we're a team that's going to be there every year. I'm really proud. The kids did awesome."
More like this story