Heart for hoops
Lexington Trails students are no strangers to heart disease. Last week the school's Hoops for Heart event brought in more than $6,000 for the American Heart Association.
Heart disease can affect everyone -- even middle school students.
Susan Slater, a physical education teacher at Lexington Trails Middle School, says her students are often surprised to learn how true that is. According to the American Heart Association, cardiovascular disease ranks as the No. 3 cause of death for children under 15.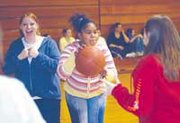 "I think they're as surprised as I am," Slater said. "I think they find it very shocking because we don't really think about that."
Lexington Trails students raised more than $6,000 last week during the school's annual Hoops for Heart event. The campaign, begun by the Heart Association and adopted by schools across the country, raises money for heart disease research and education and promotes heart-healthy activities.
Once or twice removed, the heart disease connections become even more prolific for youth.
"When you ask the group of kids 'How many of you know somebody that has heart disease?' every hand goes up," Slater said.
That was true Thursday afternoon, when almost every one of the school's seventh-graders answered "yes" to the question, which Slater posed after an hour-long session of play.
One especially close connection was for seventh-grader Alex Crall, whose mother is still recovering from a stroke she suffered in October.
Helping fund research for people like his mom, Alex said, was the driving force behind his avid participation.
"It helps her," he said. "And it's also fun to come in here and play basketball."
Alex and fellow seventh-grader Austin Hinchey were their grade's top fund-raisers, collecting more than $300 between the two of them.
Austin echoed Alex's sentiments.
Research may save lives of people with heart disease, which is important, Austin said, and it's fun to just come out and play ball.
In the weeks leading up to the event, Slater said students hit up friends, neighbors and parents' co-workers for flat donations to the American Heart Association.
For the money turn-in and event wrap-up on Thursday, students took to the gym in shifts to play basketball. Although many students played pick-up games, pretty much any physical activity that involved a basketball would do, Slater said.
The Heart Association's mission is a priority for Slater, too -- heart disease runs in her family.
Among other cases, her father died of a heart attack, and her brother-in-law recently underwent open-heart surgery, a story she shared with students all the way to the point where he came home from the hospital after a successful bypass.
"When I told the kids, they all started clapping," Slater said.
Slater said she was proud of her students' dedication. Their grand total of $6,651.14 was considerably more than last year's.
"I'm shocked," she said. "It made my heart race."