Wildcats stay alive with listless win
The Wilddcats flirted Tuesday with a nightmare end to their season, but found just enough to avoid a first-round sub-state upset.
Jackie Goleman hit turnaround jump shots in the lane, giving De Soto the lead back for good and allowed the Wildcats to knock off Bonner Springs 39-36 in opening round sub-state action in De Soto.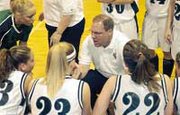 "We played like we were just weathering a storm," De Soto coach Dwight Spencer said. "We didn't play aggressively."
Even in the third period when the Bravettes started pouring in 3-pointers, De Soto failed to make an adjustment and step out on the Bonner Spring's shooters.
"We stood around and watched them shoot the ball," Spencer added. "We should have adjusted and got out on their three-point shooter."
Eventually, the Wildcats did a better job of getting out on defense, but that didn't mean Bonner Springs stopped shooting 3-pointers.
The Bravettes took 32 three-pointers in the game and made seven of them. De Soto, on the other hand, made just two-of-13 bombs for the game.
Carrie Buser lifted the lid off of the basket in the fourth period when her short jumper caught nothing but net. It was the first De Soto field goal in nearly four minutes and gave De Soto a 35-34 advantage with 90 seconds left.
Luckily for De Soto, the Bravettes were unable to catch fire and spread the lead.
Amy Petty started out hot in the first period when she scored the first five points of the game on a running jumper in the lane and a three-point basket. She had eight of De Soto's 10 first quarter points.
The senior guard scored a game-high 21 points and pulled down seven rebounds as the Wildcats out-boarded Bonner Springs by a 41-33 margin.
De Soto was ahead or tied the entire first half. But that advantage started to wilt early in the third quarter when Chase Crouch and Kelsey Stanbrough hit back-to-back treys to take an 18-16 lead just 96 seconds into the second half.
Following a Sam Johnson jumper from just inside the arc, Crouch and Stanbrough sandwiched a 3-pointer around a Petty trey, taking a 24-21 advantage.
The Bravettes pushed their advantage to five points twice in the third period when Tiffany Starks twice hit a pull up jumper in the lane.
Petty scored with two minutes left in the third quarter, and Clarissa Kopp slipped in for a layup with 27 seconds left to pull the Wildcats within 28-27 going into the final period.
Neither team shot very well from the field for the game. De Soto made 33 percent of its 45 field goals, while Bonner Springs connected on just under 27 percent.
De Soto made 7-of-10 free throws compared to 1-of-7 shooting for the Bravettes.
De Soto takes a 14-7 record into its next game against Sumner Academy on Friday at Basehor-Linwood. The Sabres (17-3) were a 65-27 winner over Atchison.
Sumner Academy will counter Petty with Marisah Henderson who has led the Sabres in scoring 13 games this season. Her season-high is 27 points in a 58-37 win over Topeka West.