Dialing up a fitness tone
De Soto Parks and Recreation class offers camaraderie, wellness
After Kim Adkins counted down from eight Monday evening in the De Soto Senior Center, "The Little Deuce Coupe" continued on for a few bars from a stereo behind her.
The end of the countdown was supposed to allow the six women in the De Soto Parks and Recreation toning class to stop the leg flex exercise they had been doing for the past three minutes.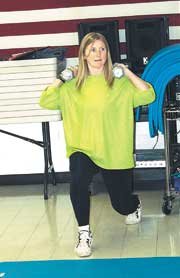 "I still hear music," Adkins said. "Keep going until the music ends."
"See what a pusher she is?" Samantha Todd said.
Despite the groans and good-natured protests, Todd and the others in the class say Adkins is one of the reasons they come to the twice-a-week exercise sessions.
"I keep coming because she's such a wonderful instructor," Todd said. "And it keeps me healthy."
Vergie Opdycke said she preferred the classes to the weight bench her husband, Doug Opdycke, used regularly.
"When I'm home, the most exercise I do is lift one leg on another," she said.
Opdycke is also enrolled in an aerobics class Adkins offers, which she confessed to liking more than the toning sessions.
"But I like doing something for my bones, because I'm at risk for osteoporosis."
Fitness and muscle toning could be accomplished with relatively light weights and without expensive equipment, Adkins said. The key was a regular exercise regimen performed with the right technique, she said.
The twice-a-week, hour-long classes Adkins offers through the recreation department provide just that. She provides the expertise gained from her experience as an instructor at an athletic club in Lenexa. As her students perform the exercises, Adkins continually reminds them of the proper form for maximum effectiveness.
And while some regulars bring their own weights, the city does regularly add to the exercise equipment used in the classes Adkins offers.
On Monday, Adkins led the class in exercises that make use of 2- to 10-pound weights to tone arms, legs and the upper body. Late in the session, the weights were put aside as Adkins had the class join her in a series of calisthenics that isolated muscles in the abdomen and legs.
The weights might not be of macho size, but are effective and tiring. When one woman remarked that her legs were trembling during an exercise, Adkins said that was how it should be.
"If you can do a whole series without fatiguing the muscles, you need to challenge yourself with more weight," she said.
Adkins leads both a twice-a-week Monday and Wednesday evening toning class and a once-a-week Friday morning class. In addition, the instructor offers twice-a-week aerobics and yoga classes at the De Soto Community Center.
All classes are offered in eight-week sessions, which are just now winding down. New sessions will start the week of March 21. Classes are $48 for the twice-a-week sessions, and $24 for the once-a-week sessions. For more information, call Jay Garvin at 583-1182.
Adkins said she hoped to add a water-fitness class when the city pool opened this summer.
"The first class is always free," she said. "If you're not sure you're going to like it, come once and find out."
Barbara Gottesburen, who is completing her first session, said she would be back.
"I'm signing up for another series," she said. "It's friendly, it's close, and there's a lot of variety."