Volunteer elves happily repaired shoes, little birds spied for a cobbler's daughter and princesses danced through their new slippers Tuesday afternoon at the De Soto Library.
But when storyteller Jo Ho tried to recruit a prince or two from her young audience, a resounding "blech" was the going response -- the prince was supposed to marry one of the princesses.
Despite the absence of princes, Ho recounted three favorite fairy tales by the brothers Grimm for a group of about 20 children and parents. During her one-hour program, Ho used character voices, animated facial expressions and child volunteers to bring the stories to life.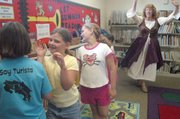 Ho, who donned a purple velvet Arthurian-esque costume for her storytelling, selected the brothers Grimm fairy tales to match the library's summer reading program theme: Dragons, Dreams and Daring Deeds.
On Tuesday, Ho read "Rumpelstiltskin," "The Twelve Dancing Princesses" and "The Elves and the Shoemaker."
When choosing which Grimm tales to tell, it's important to omit the scary ones, Ho said. For example, she noted, in the Grimms' original "Snow White," the heroine's wicked stepmother eats what she believes to be Snow White's heart and eventually is burned to death by dancing slippers made of scorching embers.
That seemed a bit gruesome for young audiences, Ho said, even if the stepmother is wicked.
Ho said she thought listening to a storyteller was a good alternative to television for children.
"Storytelling challenges them to use their imaginations," Ho said.
Karen Zimmerman brought her children Bryce, 9, Brenna, 6, and Chase, 5, to Tuesday's storyteller.
Bryce said he liked listening to fairy tales because they were more farfetched than the usual fare.
"They're not like real stories," Bryce said. "They always have something weird."
Bryce said he also liked the way Ho acted out each story as she told the tale.
"My mom just reads it," he said.