Summer staple
Vacation Bible school changes, yet seems to stay the same
At 4, Zach Yarbrough has but a week of vacation Bible school under his belt -- long enough to learn one of the event's main points about Jesus.
"I learned that he loves us and respects us, and he loves us wherever we go," Zach said Friday, just having sung grace and beginning to peel the paper from a frosting-laden cupcake in the basement of De Soto Baptist Church.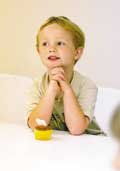 Zach's experience was not unlike others from decades gone by at De Soto Baptist Church and, frankly, most any other church. Much has changed with the times, but games, crafts, sweet snacks and learning about Jesus have been part of vacation Bible schools for just about as long as anyone can remember.
Dorothy Nalley, who has been the Baptist church's VBS director since it opened about 50 years ago, said children these days had much more going on during the summer than they used to.
Summer school and sports camps galore often compete with Bible school, so planners try to make it exciting, Nalley said.
Pat Weese, who was helping with snacks, said Bible school activities were more interactive than they were when she was younger.
"You have to change with the times," Weese said. "If we did now what we did way back then, we wouldn't have any kids, we wouldn't be able to keep their interest."
One of the biggest changes over the years has been the introduction of a theme.
Church supply companies now provide vacation Bible school packages with daily lesson plans, skits, decorations, and matching craft and snack ideas.
Each year's theme is different, and many churches across the United States will likely share the same plans.
This year's theme for both Baptist church and De Soto United Methodist Church vacation Bible schools is "Serengeti Trek."
Baptist snack committee member Diana Zwahlen said she helped prepare snacks to go with Bible verses, snacks that were shaped like giraffes and snacks like trail mix that children might actually take on a trek.
"That's a lot different than what it would have been when I went to Bible school," Zwahlen said. "We just had cookies and punch."
Songs and activities have become more interactive, too, Weese said. Today's VBS-goers clap, jump and holler during songs.
"Back then we were supposed to be polite," she said. "You didn't do anything like that in church."
Frances Lawhead, now a great-grandmother, agreed that behavior expectations weren't as structured as they used to be.
"When my kids went to Bible school, they had to sit down and behave," she said.
Crafts, however, haven't changed too much during Lawhead's many years of coordinating them. Even if they do match a theme, they've always been about making something out of nothing, Lawhead said.
Among other things, children at the Baptist church made angels out of TV guides and seed crosses, construction paper crosses with seeds glued on them that when planted should sprout plants in the shape of a cross.
Through the years, God's eyes also have been popular.
"I've still got a bunch of those," Sue Allen said.
Allen, who was helping with crafts, said her own children brought home plenty of the yarn-wrapped popsicle-stick crosses from their summer Bible schools.
"They're in their 40s, and I still have the crafts that they made," Allen said.
From her own Bible school days, Allen remembers singing many of the same songs children today do, like "Deep and Wide" and "Jesus Loves Me."
Sally Beck led children in the Baptist church's "Bible Expeditions" skits, another theme activity.
"Each day after they learned the story, then they came and lived it in the Bible expedition," she said. "It's a little more modern, but yet it combines the Bible stories also. It's noisy and it's fun, and the kids are very much involved in the stories."
Clearview Baptist Church and Village Church do not have vacation Bible schools planned this summer.
However, De Soto United Methodist Church, 8760 Kill Creek Road, has planned its Bible school for July 25 to 29. For more information, call the Methodist church at 583-1359.
From her seat in the Baptist church snack preparation area, Weese said vacation Bible schools always were free and open to all children to help achieve their main goal.
"To plant the seed," she said. "It might be the only time all year that they hear about Jesus."
More like this story