Plenty of class
30-year district teacher retires after a career of teaching, coaching, directing or sponsoring some of just about everything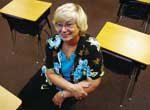 Shortly after the 1974 school year began at De Soto Junior High School, Terry Robins got a phone call.
A teacher was leaving because her husband was transferred, and the school had a unique need for someone who could teach language arts and physical education. Robins happened to have a major in each.
"I just walked in to interview, and they said be here tomorrow, and that was it," Robins said.
Through the years, adaptability paid off for Robins, this year's sole full-time teacher retiring from De Soto USD 232. A 30-year jack-of-all-trades instructor, Robins' former students include Board of Education president Rick Walker and several of her co-workers at Monticello Trails Middle School, where she most recently taught communication arts.
At De Soto Junior High, which is now De Soto's downtown Community Center complex, Robins taught in the same classroom for about 20 years, but her class load was anything but monotonous.
"I really learned a lot," she said.
She coached volleyball, basketball and track at the junior high, and outside of school she dabbled in community theater.
"And so when they needed a drama teacher at the junior high, they asked me to teach drama," Robins said.
Robins balked at first, saying she wasn't certified to teach drama. But she eventually agreed and had an "awesome" experience, she said.
Theater then snowballed into more and varied teaching roles, and Robins had to choose.
"About the time I started directing the musicals, something had to go," Robins said. "So I quit coaching."
"Then I came to school one year, looked at my schedule and discovered I was teaching speech," Robins said, once again tackling something new. "And then they needed somebody to do the yearbook and the news."
Robins began teaching eighth-grade communication arts at Monticello Trails when the school opened 10 years ago. She most recently taught the same subject to seventh-graders.
By that time, some of Robins' former students had begun trickling into the school -- as teachers.
"It's kind of a strange experience," Robins said of having former students as co-workers. "You kind of think in the back of your mind what they remember about you."
Monticello Trails reading teacher Sheila Farr remembers being in class with Robins throughout middle school.
"One of my favorite things to do with her was the yearbook," Farr said. "It was a lot of fun putting that together with her."
Farr said she also remembered participating in plays and how Robins' energy was inspiring.
"You can tell she enjoyed what she was doing," Farr said. "She really got into it and made you want to get into it."
Autumn Beashore, who teaches math at Monticello Trails, remembered having Robins for publications and speech.
"She was really relaxed, always used her sense of humor, and she had her expectations," Beashore said.
Robins' end-of-year classroom packing protocol was different this year than ever before.
"Usually I throw everything in the cabinet and shut the doors," she said while boxing up her room at the end of last month. "This year I can't do that."
She said the thought of retiring was exciting, scary and sad but that she didn't think she'd feel its full effects until the fall, when everyone else was going back to school and she wasn't.
"It's kind of surreal," Robins said. "I don't think it's going to hit until, like, August that I'm not going to be back here."
Robins' retirement plans include traveling with her family and on international mission trips for her church, Indian Creek Community Church in Olathe.
The church is scheduled to open an in-building bookstore and coffee shop in January, and Robins said she planned to manage the bookstore side, at least.
"I don't know about the coffee shop," she said. "That might be too big of a job to do both."