Crafty library activity transforms children into mystical creatures
A small band of colorful, sparkling unicorns could be found prancing about the children's nook Thursday morning at the De Soto Library.
The magic that spurred their transformations came in the form of paper cones strapped to their foreheads with elastic bands, but children found that, with a little glitter, the cones did the trick.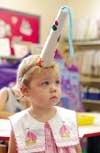 The library's summer reading program bears the theme "Dragons, Dreams & Daring Deeds." On Thursday, unicorns were added into the mix of jester-like juggling, medieval shields and dragons that have cropped up in library activities and crafts throughout the summer.
Eight-year-old Rachel Suarez has never seen one of the mystical creatures in person, but she has a few ideas about what unicorns look like.
"They're colorful," Rachel said, adding that she thought most unicorns were white with rainbow-colored tails, horns and manes.
She said unicorns also had special powers that they use for good.
"They usually have magic in their horn," she said. "They can heal people sometimes."
As Rachel dabbed glue on her unicorn horn and sprinkled it with silver glitter, her younger sister Julia Suarez, 5, did the same.
Julia said she thought unicorns were neat because they fly.
Overseeing Thursday's activity was Melody Kinnamon, Johnson County Library community branch manager.
Kinnamon said unlike many modern pastimes, activities like listening to storytellers and making unicorn crafts prompted children to be imaginative.
"I think it's just fun for them to use their imagination," she said. "With all the computer games and video games and all that, it's kind of a nice, simple thing."
Donna Suarez, the mother of Rachel and Julia, said she brought her family to the local library often to check out books. She said occasional children's activities helped pique their interest in literature.
"Using the imagination spurs on reading," she said.