Fireworks light up holiday in De Soto
Two-man team lights up holiday sky
Before any bombs burst in air Monday night, Chris Endriss and Ross Spicher had a lot of work to do.
Fireworks had to be trucked to the site, arranged aesthetically and dropped into tubes buried partway in the ground. They had to be wired, tested and eventually fired, all of which was an evening-long process for the two-man team that carried out De Soto's Fourth of July fireworks display.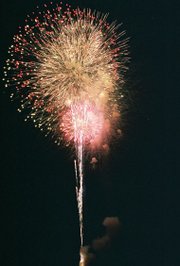 Endriss and Spicher are employees of Wald & Company's All American Display Fireworks of Greenwood, Mo., the company hired to produce this year's show. With "oohs," "ahs," applause and an occasional "radical" following every flare, a large crowd of area residents was on hand to admire the pair's handiwork from the stadium behind Lexington Trails Middle School.
Nine-year-old Teddy Koehler, for one, said he thought the fireworks were "awesome."
"They were big and loud," Teddy said. "And the colors were cool."
Aubrey Heer, 7, also cited the fireworks' colors as the best part of the show but chose pink and purple as her favorites.
To keep spectators entertained, a professional fireworks display takes planning.
"I try to keep something in the air at all times," Endriss said.
Endriss was the shooter for De Soto's show, and Spicher was the loader. Both worked the show, but only Endriss is licensed to light fuses.
At the crest of the hill between De Soto High School and the district stadium, the two men set up about 10 pods of different-diameter pipes.
Fuses dangled from each hardened plastic pipe, attached to a mortar inside. Also attached to most of the pipes were long wires -- Endriss would touch those to a battery several yards away to set them off when the time was right.
The show's smallest shells were about the size and shape of a pear. The largest were the size of a volleyball.
"Those'll get your attention -- they do rock a little bit," Endriss said.
The large shells were not wired; Endriss' modus operandi for those was "Light fuse and get away."
To ensure the initial powerful blast doesn't knock the pipe sideways, sending the firework awry, the jumbo mortars must be placed in thick tubes buried one-third of their length in the ground.
Ground zero gets loud, hot and smoky during a show, Endriss said, so he wears earplugs and a fire-retardant protective hood.
"So I can't hear anything," he said. "But I can feel it."
Endriss, a 39-year veteran shooter, noted before the show that Monday evening's weather was muggy and without much breeze -- the worst conditions for trapping smoke around the area where it's emitted.
"Imagine being in a smoke-filled room," Endriss said. "I mean so thick you can't see yourself. It gets a little warm. I'll be coughing up smoke for a couple days."
Safely away from the firing zone, spectators began filling the stands and setting up lawn chairs and blankets around the track around 8:30 p.m. On the other side of the shooting range, cars staked out spaces in De Soto High School's back parking lot.
For fireworks-goers like Aubrey's mother, Diane Heer, the convenience of De Soto's show was a big draw.
Unlike some of the area's bigger displays, Heer, who lives in west Lenexa, said she could take her family to De Soto, get in and out and still have time to set off a few fireworks afterward at home.
"This is about the fourth year we've been here," Heer said. "It's close and not as crowded. You go to Shawnee Mission Park and it's just nuts getting out of there."
Debra and Ted Koehler said they liked the ease of attending the De Soto display, too.
Ted Koehler said he also liked the show's pace -- never too much all at once. He said it was nicer to have a moment to take everything in between fireworks.
"I like this one because they take their time shooting them," Koehler said. "You get to enjoy their effects more."
With the exception of licensed public displays, fireworks are prohibited in Johnson County.
But, the Johnson County Sheriff's Office responded to 14 fireworks-related calls in De Soto during the holiday weekend. Of those, 11 were on Monday.
Sheriff's Deputy Tom Erickson said nearly all calls were reports of neighbors shooting fireworks. He said the office had no reports of fireworks-related injuries that occurred during the afternoon or evening of the Fourth.