De Soto capitalizes on mistakes
De Soto took advantage of Shawnee Mission North's smorgasbord of errors in an 11-4 doubleheader nightcap victory Tuesday at the west complex of the 3 and 2 Baseball Club of Johnson County.
"We feast on other people's mistakes," Wildcats coach Dustin Jamison said. "We capitalize on the things they do wrong. For us not practicing, our hitting is rather streaky, so we have to take advantage of mistakes."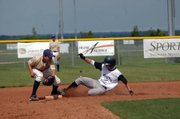 The Wildcats put four extra hitters on the bases, thanks to misplayed balls off line throws and other mental gaffs by North. In all, the Slam was charged with seven errors.
The damage was especially heavy in the fifth and sixth innings when the Wildcats scored all 11 of their runs. De Soto sent 22 batters to the plate in the two innings, collectively, and pounded out nine hits. But more importantly, they took advantage of four Slam mistakes.
Aaron Hansen led off the fifth inning with an infield single back toward the pitcher. He stole second base and took third when a throw to second was off line.
Brady Maasen then lined a single to right center field, scoring Hansen. Maasen took second base when the cut off throw was off line; he then took third on a wild pitch.
Maasen scored when Jake Morse popped out to right center field.
Dustin Grimes put the next pitch in play and reached base safely when the Slam second baseman misplayed his grounder. Grimes stole second and scored on a single grounded to left center by Erik Hill.
Jerin Riffel reached base on another error to load the bases. After Austin DeGraeve struck out swinging, Peter Buffkin scored on a passed ball to give De Soto a 4-1 advantage after four-and-a-half-innings. Buffkin walked on four pitches earlier in the inning.
Tyler Farmer led off the sixth inning with a stand-up triple when he hit to the fence in center field. Jake Bosnak replaced him on the base pads and scored on Maasen's double to left center field. Jake Morse's grounder made its way out of the infield for a single and scored Maasen for a 6-1 Wildcat lead.
Dustin Grimes reached base safely when the Slam second baseman dropped a pop up in short center field to put runners at first and second with one out.
Buffkin walked ,and Hill followed with a single to center to score Morse and Grimes for an 8-1 Wildcats advantage. Buffkin scored on DeGraeve's single to right, and Travis Crow scored Hill and DeGraeve when he dropped a pop up in between three defenders into short right field to hand Wildcats starting pitcher Farmer an 11-1 lead midway through the sixth inning.
Farmer, who gave up five hits and three walks in the contest, then struggled to get out of the inning. He eventually won the contest by seven runs following back-to-back groundouts to end the threat.
"We had that long inning (offensively) so he hadn't thrown in a while," Jamison said. "I told him to four seam it and go after the hitters. We played for outs."
Farmer and Slam starting pitcher Gage Daniels looked every bit the part of a pitcher's dual through four innings before the Wildcats went on their tirade. Daniels held a slight 1-0 lead during that time span. Daniels faced 13 Wildcats during the first four innings. Farmer faced 15.
"I told him before the second game that he was going to have to go the distance," Jamison said. "I told him to keep the count down and to throw strikes. We had to have him."
Farmer used 100 pitches to get out of the game and threw 62 strikes. He faced three batters in each of the first, third and fifth innings and four in the second.
Four of Farmer's pitching teammates didn't fare as well in the 10-5 first game loss. Hill, Maasen, Crow and Morse struggled just to get outs. The foursome combined to give up seven hits. The Wildcat staff walked 11 Slam batters and hit four more to dish out 15 free bases in the five-run loss.
They threw 139 pitches and 75 strikes. At one point Maasen walked four straight batters and five out of six in the fourth inning.
"We're not going to win very many games doing that," Jamison said.
On the other side of the hill, Slam starter Seth White struggled as well. White threw 85 pitches in four innings. Only 44 of those pitches fell safely into the strike zone.
But the Wildcats helped White out by going after pitches out of the strike zone.
"I think we tried to be disciplined," Jamison said. "We just have too many guys that like to go after the high pitches."
The Slam scored in every inning but the fifth, and tallied four runs in the fourth inning and three more in the sixth to put the game away.
The Wildcats looked as if they'd win the opener when they rallied for five runs in the bottom of the third inning to take a 5-3 advantage. The Slam, however came back for four runs of their own in the top of the fourth inning to take the lead for good at 7-5.
Riffel made some great plays from his center field spot. The Wildcat sophomore made three diving catches to rob Slam hitters of base hits. He also threw a runner out at home from center field.
"This was his best game all summer," Jamison said. "I talked to him about being more aggressive out there. He's so fast. He can get to anything."
Both contests ended after six innings because of the two-hour time limit.
Farmer led the way offensively for the Wildcats. He went 4-for-8 with three singles and a triple in the two games. Maasen was 3-for-6, Bosnak went 2-for-3, Jake Morse 2-for-5 and Hill was 2-for-3. Maasen scored three runs and knocked in three more.
Bosnak, Grimes and Buffkin scored two runs apiece. Morse and Hill were credited with 3 RBIs each, while Crow added two more.
Brett Gunderman went 2-for-6 from the plate for North, while Jake Bauer was 3-for-5. Zach Gabriel was 1-for-4, but he earned three free bases during the night's activities. He scored four runs and knocked in another one.
Kyle Hooper scored twice as did Joey Rineman, Brian Sax and White. Gunderman and Tommy Lisky knocked in three runs each.
As a team the Wildcats were 20-for-59 (.339) from the plate and had an on base percentage of .400 (26-for-65). The Slam hit just .273 (12-for-44) against Wildcat pitching, but had an on base percentage of .484 (30-for-62).
De Soto, 8-3, plays against the Huskies at 8:30 p.m. Tuesday on field No. 2 at the east 3 and 2 Baseball Club of Johnson County complex. North fell to 6-7 with the second game loss.