Winter brings eagles back to De Soto
Open water on Kansas River, large number of waterfowl attracts birds to area
Bob Stevens noticed he had some unexpected visitors on the Burning Tree Golf Course he recently purchased, ones who weren't there to play golf on the ice-covered greens.
The visitors are bald eagles, hanging out on the trees overlooking the Kansas River.
"It was neat to see them down there," Stevens said. "We saw one eating a fish one day."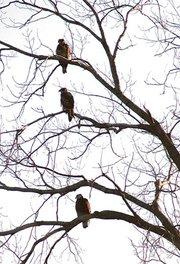 Food was what brought the birds to the site, Kansas Department of Wildlife and Parks wildlife biologist Edwin Miller said. Eagles had become common on the Kansas River in the past couple of decades, usually observable in areas of open water, such as the stretch provided at De Soto where the sharp bend speeds up the water enough to keep it ice-free during the current January cold snap.
"They take carp, gar, shad, minnows," Miller said. "Anything substantial enough they can get at."
Primarily thought of as fish eaters, the eagles were also alert to another food source, Miller said.
"They prey on waterfowl, primarily wounded, diseased or old ducks and geese," he said. "They have a good eye for that, noticing things you or I wouldn't see.
"I saw an eagle take a snow goose in the air once. It hit him, knocked him to the ice and had a meal for the rest of the day."
The national symbol sometimes feeds in much less glamourous ways.
"They'll also eat carrion," Miller said. "This time of year, they're not too fussy about what they eat."
Stevens said he'd noticed the eagles often perched on the same tree on the south side of the river. That was not uncommon and may have been a habit picked up in past years, Miller said.
It was probable De Soto's eagles returned year after year, Miller said, picking out favorite hunting spots and perches. But as the eagle population bounced back in the past three decades so had their nesting range. Kansas now had about 15 nesting pairs, Miller said.
The state annually conducted a mid-winter survey during which eagle populations were counted at 17 different locations, Miller said. The survey normally counted from 300 to 500 of the birds along the Kansas River, with the largest concentration near Fort Riley, he said.
Continent-wide, bald eagle populations had bounced back to the point that Miller anticipated they would soon be removed from the threatened species list.
Bald eagles are about three years old when they fully develop their distinctive white heads and tails, Miller said. Adults weigh about 12 pounds and have wingspans from 6 1/2 to 7
More like this story