An instrument of expression
Ask bassoon players if their instruments deserve being dubbed clowns of the orchestra, and most will do one of two things: take offense or laugh.
Michelle Prescott, a De Soto High School senior who recently won 2nd chair state honors for her performance on the lumbering woodwind, leans toward the latter.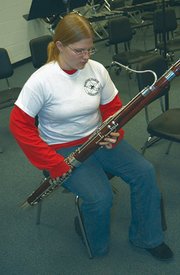 The difficulty and range of the bassoon, as well as its importance to the orchestra, was not to be underestimated, she said.
The bassoon's sound can be serious and solemn or beautiful and sweet. At the same time, the instrument is often relied upon for more playful parts of an orchestral score.
But Prescott, who admitted to having a penchant for the bizarre, theorized the description has more to do with the people who play bassoon than the instrument itself.
"Some of the parts we get are really, really fun," she said. "And at the same time, I know the personalities of a lot of the bassoonists are kind of quirky."
Beyond that, the clown myth may be fueled by the fact that the bassoon is unknown to many and often misunderstood.
"There's actually a lot of pieces that feature the bassoon or have bassoon parts, just nobody knows what it is," Prescott said. "They think, 'Oh, that's pretty,' but they don't really know what it is."
When she tells people she plays the bassoon, Prescott said reactions often include expressions of complete bewilderment or questions like "Oh, yeah, isn't that that oboe-looking thing?"
"It is kind of a rare instrument," said De Soto High School band director Justin Love. "It's a very important instrument, but it is a difficult instrument to learn."
Love said Prescott, like most students, at first struggled to learn. However, she worked very hard at lessons in and out of school and now occupied an elite spot in the state orchestra, Love said.
"She's come a long way," the director said.
While the bassoon and the oboe are relatives -- they're both woodwinds -- the bassoon is distinctive and much larger.
For Prescott, who's 5-foot-3, the bassoon reaches from the floor to her neck. Its length, in part, enables it to play a range of octaves.
The bassoon's varying capabilities parallel one of Prescott's favorite things about classical music in general. Within the genre, there was a little bit of everything, she said, from hard-edged Russian pieces to soft lyrical compositions by Beethoven or Chopin.
That dynamic showed up in auditions for state, which were Jan. 8 in Salina this year.
Competitors' versatility, speed, accuracy, interpretation and tone were tested by performing a prepared piece that showcased all types of playing, Prescott said. Similar challenges showed up in a sight-reading test -- along with seven flats and a very tricky time signature.
"The sight reading this year was insanely hard," Prescott said.
Prescott will perform in the All-State Orchestra Feb. 26 at a Kansas Music Educators Assn. workshop in Wichita. Col. Arnold Gabriel, retired conductor of the U.S. Air Force band, will direct the orchestra.
While she's preparing her piece for state, Prescott will also continue her search for a college, where she hopes to turn her love of music into a career.
"I can't imagine what life would be like without music," she said. "I'd probably keel over and die."
Getting into a good school for music involves some specialized searching and some in-person auditions.
Prescott said her pie-in-the-sky school choices included North Carolina School of the Arts in Winston-Salem, N.C., the Peabody Institute of Music in Baltimore, Md.; and Arizona State University, Tempe, Ariz.
Although the bassoon is her instrument of choice, Prescott also plays the contrabassoon -- a larger, lower cousin to the bassoon -- in the De Soto High School orchestra, the Sousaphone in the marching band and is learning the baritone saxophone for the school's jazz band.
Love said professional musicians needed to know many instruments and that Prescott was getting a good start.
"Once you've learned an instrument very well and become successful," he said, "it's actually easier to pick up other ones."