Spellers queue up for county bee
Nearly 130 area students and their fans converge upon Lexington Trails Middle School in De Soto for the Johnson County bee
Cilantro.
Tyler Horseman attacked the word like a pro.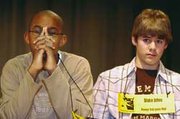 The seventh-grader from St. Joseph School in Shawnee stood up straight, spoke close to the microphone, asked judges to use the word in a sentence, and requested a definition before confidently articulating: "Cilantro. C-I-L-A-N-T-R-O. Cilantro."
That was Tyler's first word in the final round of the Johnson County Spelling Bee, which took place Friday at Lexington Trails Middle School. However, as Tyler and 127 other young spellers learned as the day progressed, words tended to get harder.
"Remember, don't lock your knees," forewarned Mize Elementary School Principal Pam Hargrove, who coordinated the event. "The words? Pretty tough. But it is the championship bee, you know."
Three students from De Soto schools participated in the county bee. Seventh-grader Sarah Longman of Lexington Trails, fourth-grader Sophia Templin of Starside Elementary and fifth-grader Parker Riley of Mize Elementary represented their respective schools on Friday, although none made it to the final round.
Two Shawnee students -- Tyler and Monticello Trails Middle School eighth-grader B.J. White -- were among 15 spellers in the final round of Friday's competition. The finals included the top five spellers from each of three preliminary rounds.
Tyler's second query wasn't quite so easy -- he got the word paroxysm, meaning a sudden outburst or attack of symptoms, a fit.
Tyler had to sit down after being just one letter off, spelling the word peroxysm.
B.J. got a stumper for his first word in the final round: whodunit, an informal term for a detective story.
B.J. also came close, guessing the word was spelled whodunnit. In a few dictionaries, both spellings are accepted, but the official spelling bee dictionary -- Webster's Third New International -- and the Scripps National Spelling Bee booklet list only one spelling for the word, and it just has one 'n.'
The county spelling bee was an all-day event, with the first round beginning at 8:30 a.m. and the championship lasting until just past 4 p.m.
Keeping things running smoothly for more than 100 participants and their families and fans took some teamwork, Hargrove said.
The De Soto High School National Honor Society, along with sponsors Rachel Long and Jana Lloyd, took over speller registration, provided concession sales and set up a KidZone in the gym, where spellers' little brothers and sisters could pass the hours.
Playing one of a spelling bee's most important roles, DHS English teacher Kathy Reddy was the pronouncer.
A few contestants ventured into the community between rounds.
B.J., his parents, and his little sister escaped for lunch at Pizza Hut, they said. But B.J., like many spellers, spent a considerable amount of time skimming the word list in the Lexington Trails cafeteria.
Before heading into the final round, B.J. said he wasn't sure how he would do but said he planned to apply strategy, as usual.
"I like to clarify my words," he said. "I ask for the definition, and if I know what it means then I can guess."
Heading into the final round, B.J. admitted to being "kind of" nervous but said: "My mom's more nervous than me."
The scene was similar down the hall, where sixth-grader Robby Medhi, who attends Shawnee Mission's Brookwood Elementary School, awaited the finals by reading "Treasure Island" and occasionally glancing through his Scripps booklet while his mother, Karen Medhi, took care of getting nervous.
"I think I'm more nervous than he is," Karen said.
Hargrove said she was glad De Soto USD 232 had the chance to play host to super spellers from all over the county.
"It's always exciting to see individuals working toward a goal, whatever that goal may be," she said. "And during the Johnson County Spelling Bee we witnessed some incredibly poised youngsters doing exactly that."
Each participating school in Johnson County sent one student to Friday's bee. The competition was open to students in grades three through eight.
Sara Smith, a seventh-grader from Ascension Catholic School in Overland Park, won the bee. She will represent Johnson County at the state bee March 26 in Topeka.
Ethan Ness, a sixth-grader from Northview Elementary School in Olathe, was runner-up.
When Ethan missed the word mountebank, Sara correctly spelled it and then charismatic to win the bee.
More like this story