Four Cats qualify for state wrestling finals
Faircloth, Goleman, Mercer seek medals in Wichita, regional 'Wrestler of the Year' Erisman stalking state high school pin record
By his own admission, Neil Erisman hasn't wrestled to the standards he set for himself at the past two state wrestling meets.
Now he's ready to get the monkey off his back.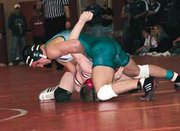 The junior grappler has raised his level this season in order to make amends for what he considered two so-so appearances at the state meet.
At 145 pounds in 2003 Erisman took second and settled for third last year.
"I am more focused and more determined," he said of his third trip to the state meet in Wichita. "There is more purpose behind this one, I guess."
And if all goes as planned, not only will he bring home the championship at 152 pounds but also the state record for pins in a season.
Former Blue Valley North wrestler Tyler McCormick holds the state record of 36 falls. With four straight pins Friday and Saturday in Wichita, Erisman will have 37 pins to go along with a sparkling 42-0 record.
Erisman put himself into the record-threatening position by pinning four-straight opponents at the Fort Scott 4A Regional Wrestling Tournament. He opened the meet with a first-period pin over Anderson County's Caleb Foltz.
Then in order, Erisman treated Osawatomie's Dylan Manchester, Spring Hill's Derrick Hayes and Fort Scott's Derek Hall to first round pins as well.
"I think I wrestled pretty good today," Erisman said. "I took care of business. I did what I had to. I was more physical, more aggressive than I was the previous week."
Erisman's accolades didn't stop at being crowned regional champ and earning one of four No. 1 seeds for this weekend's competition. He was also named the "Outstanding Wrestler of the Year" in the region.
"It's pretty gratifying," Erisman said. "It's nice to win, but I don't want to get too big of a head because I still have to get it done at the state tournament this weekend."
Adam Faircloth was also crowned regional champ by winning the 140-pound weight class. But in order to reach the champion's platform of the medal stand, Faircloth had to pull off an upset in the finals. And he did so in grand fashion.
The senior beat up Fort Scott's third-ranked Dakota Hall with a 16-4 major decision win. In the blink of an eye, the returning state qualifier built a 10-0 lead over the Tiger grappler.
Faircloth reached the championship match by pinning Piper's Chris Harman and decisioning Baldwin's Andreas Brandenberg 6-3.
Leif Goleman and Alex Mercer didn't win championships, but they kept their seasons alive by placing in the top four of their respective weight classes. Goleman finished second at 171 pounds, while Mercer was third at 215 pounds.
Goleman was in good shape to win his weight class, but an ankle injury slowed him enough to allow sixth-ranked Ross Starcher of Tonganoxie to escape with a 4-2 overtime win.
Before butting heads with the 35-4 Chieftain, Goleman earned a 10-0 major decision over Louisburg's Jake Pickert and defeated Fort Scott's John Paul Horsch 7-3.
Mercer won an 8-4 decision over Sumner Academy's Phil Shields to get his weekend off on the right foot. But the eventual champion Derrik Jones upended Mercer's attempt at giving Wildcat coach Matt Jones three champions.
Mercer earned third place by pinning both Chris Durkin of Eudora and Anderson County's John Gooding.
Brandon Hurt and Bryan Roddy came close to qualifying for the state meet in their weight classes, but both grapplers came up a match short.
Hurt fell to the consolation bracket when he was pinned by Spring Hill's Kyle Hudgins in the championship quarterfinals. His season ended when Basehor-Linwood's Zach Davis defeated him 10-3.
Roddy may have had the toughest bracket of the Wildcat wrestlers. The senior would have had to knock off at least one of four ranked wrestlers in his weight class. The 275-pounder lost a 6-2 decision to Fort Scott's sixth-ranked heavyweight Gary Wiggins in the meet's championship quarterfinals.
The senior then pinned Piper's Jake Harman and Baldwin's Brandon Reed to make his way into the consolation semifinals. Darrel Kimzey, the fourth-ranked wrestler from Prairie View, ended Roddy's season there with a pin.
Jacob Rupe (125), Aaron Hansen (145) and Matt Below (189) all lost two straight matches to open the weekend.
The Wildcats took fifth as a team with 96 points. Fort Scott won the meet by qualifying 10 wrestlers to Wichita and scoring 184.5 points. Baldwin took second with 165 points and seven state qualifiers. Eudora and Spring Hill took third and fourth, respectively.
Faircloth will take a 22-11 record into his first-round match against Scott City's Dustin Warta (23-15). If he wins that match, Faircloth would probably meet Santa Fe Trail's Max Connelly (32-5), the top-ranked wrestler in the 140-pound weight class in the quarterfinals.
Erisman, who is 38-0, will try to make Ulysses' James Gerstberger (23-8) his first pin victim of the meet on Friday.
Goleman takes a 30-6 mark into his first-round match against Colby's Ross Wright (20-16). If both wrestlers keep winning, Goleman could butt heads with Santa Fe Trail's Justin Wiscombe, the top-ranked wrestler at 171 pounds in the semifinals.
Mercer now stands 32-8 and battles Santa Fe Trail's Jake Kober (19-10) in the first round. He would then take on fourth-ranked Atticus Disney (29-3) of Andover Central in the second round.
More like this story