Fire destroys grain elevator
A fire destroyed a feed mill early Friday morning at De Soto Feed and Grain.
As the remains to the building still smoldered behind him late Friday morning, De Soto Feed and Grain manager Dean Heise said owner Jim Carpenter planned to rebuild. The feed mill, built in the 1910s on Hadley Street near the Kansas River, housed the business' custom feed mixing operation, he said.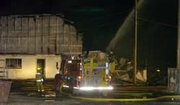 "Our custom, local mixing is shut down indefinitely," he said. "It's not all of our business, but it's a big part of it.
"We have customers with one Guinea pig to a guy with 250 breed cows."
Heise said he got a 4 a.m. call at his rural Lawrence house informing him of the fire.
"When I drove over the bridge, I saw the roof was already starting to collapse," he said. "It was fully engulfed when I got here. It was past the point of being salvaged. It was just a matter of containing it."
De Soto Fire Department Chief Kevin Ritter said the same assessment was made when the first units from his department arrived four minutes after a patrolling Johnson County Sheriff's officer reported seeing flames jumping through the structure's roof at 3:50 a.m.
"We went into defensive attack to protect nearby exposures," he said.
Units from three neighboring fire departments assisted in the fire, including ladder trucks from the Olathe and Lenexa fire departments. The fire was brought under control after 20 minutes and units stayed on the scene until 8:30 a.m., Ritter said.
The cause of the fire had yet to be determined, Ritter said.
Heise said the loss was substantial.
"There were thousands of bushels of grain and many tons of pre-mixed feed lost," he said. "It had to be (worth) several $100,000.
"And hundred-year-old buildings are hard to replace."
Customers have been "supportive and understanding," Heise said. The business still has bags of feed for sale marketed by the large animal feed companies.
More like this story