Cats make it a streak: knock off Tonganoxie
De Soto boys basketball coach Jim Bonar asked fans before the season to take a chance on his team. He promised a new style of play, a handful of new faces, and, he hoped, a new result.
Now six games into his first season as De Soto's coach, Bonar and the Cats have delivered.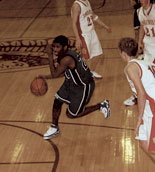 Scott McElvain scored 20 points and De Soto won its third-straight game Tuesday, beating Tonganoxie 64-49 and extending such a winning streak for the first time in more than a year.
"It feels awesome," McElvain said "We got rolling and things were falling into place. Everything's getting better each week."
De Soto (3-3) exploded with a 21-point second quarter and outpaced the Chieftains 37-22 in the second half.
But it took all that firepower to overcome an ugly start.
The Wildcats scored just six points in the opening frame and didn't notch their first point until three minutes, 19 seconds remained in the quarter.
De Soto trailed 16-6 after a quarter and spent most of the second playing catch up. Erik Hill sank a pair of free throws to cut the gap to five and Cory McElvain made it one point several minutes later.
Tonganoxie took a one-point lead to the half, but JT Thompson, who finished with a season-high eight points, drained the second of his two 3-pointers to open the third quarter.
The game tied at 30 and 32, but Taylor Burnett forced a turnover by picking up a charge and Scott McElvain scored on a layup and drew a foul on the ensuing possession. He sank the free throw, and De Soto had the lead for good.
"We were asleep at the wheel to start with," Bonar said. "We played just well enough to win. I think we are a lot better team than we showed. For awhile there, I was trying to find five guys I could put on the court that would all be aggressive."
Bonar finally found the aggressive lineup in the second half, and Burnett's charge and McElvain's drive could sum up the renewed effort.
After McElvain's traditional 3-point play, Andre Linzy stole a pass and made a layup. Moments later Cory McElvain stole another ball and passed ahead, allowing Linzy another easy two points.
De Soto led by 14 after the third quarter and handily put the game away in the fourth, doubling up the Chieftains 22-11 in the final quarter.
"That's the way we should be playing against Tonganoxie," Scott McElvain said. "The team is expecting us to win games, and that's a whole new perspective for this team.
The Cats winning streak has been punctuated by big games by McElvain, but more importantly a wide variety of scorers. Both proved true Tuesday.
McElvain's 20 was a season high, but Andre Linzy also had a season-best 11 points and Burnett added 10. Ten Cats contributed in De Soto's Friday victory over Maranatha and nine scored against Tonganoxie.
"The underclassmen, they're just talented," McElvain said. "If they stay in the program, look out in two years. They're definitely helping us, and we definitely need them to win a game."