Wildcats beat Gardner, pick up first win
Taylor Burnett remembered back over the last two weeks with a smile.
He didn't argue the suggestion that his team's season opening 56-44 loss to Mill Valley was ugly, or that the follow up 65-39 letdown against Wellsville was even worse.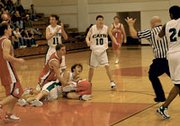 "We were down after Mill Valley and for Wellsville, I don't know if we really understood what happened," the senior forward said.
And he certainly didn't argue when asked if De Soto's 49-35 victory over Gardner-Edgerton Friday was worth the wait.
The Wildcats (1-3) won their first game of the season, kicking off their home schedule in dynamic fashion by seizing control of the game in the third quarter and holding Gardner down all through the fourth.
"Everyone came out and we played as hard as we could," Burnett said. "That's what I've been trying to tell the team all week. Fundamentals and everything are important, but the biggest thing is heart. That's what we did and everything took care of itself."
De Soto showed signs of improvement in a solid performance Saturday against Osawatomie, but Tuesday, the pieces finally came together.
Sophomore Jake Morse led all scorers with 15 points, Burnett added 10 and Cory McElvain scored nine, but point totals weren't the story of De Soto's victory.
Scott McElvain had just three points, but grabbed nine rebounds, had three blocks, three steals and a handful of assists.
Andre Linzy scored four points, but swatted two key 3-point attempts from the air.
Burnett, in addition to his 10 points, drew two huge charging fouls under the basket.
Morse added three steals and was a perfect 6-of-6 from the free throw line.
"This more of what I see in practice," De Soto coach Jim Bonar said. "That's what hurt me in the first couple of games, when we didn't go out and execute and play to our abilities. We took care of the ball, we rebounded and if we do that, we'll come out ahead most times."
De Soto grabbed the early lead and was ahead 8-2 early in the first quarter. Gardner closed quickly, however, and De Soto advantage was reduced to one, 11-10, by the end of the quarter.
After another eight minutes, little had changed and De Soto took a tight 25-22 lead into the half.
The Cats took over in the third, however. Morse scored with a floater in the lane and hit two free throws after he stole the ball and drew a foul. Gardner answered with a 3-pointer and another basket, but a Cory McElvain trey and an Linzy block left De Soto with an eight-point 34-27 lead at the end of three.
It was more of the same in the fourth. The Blazers went nearly the entire quarter without a basket. Tyrek Artley made three free throws and Connor Bechard made two early in the period, but De Soto held Gardner without a basket until the 48-second mark and without a point for nearly five minutes.
The Cats, meanwhile, took full advantage of Gardner's drought. Linzy scored slashing through the lane and Cory McElvain added a pair of free throws. Burnett found an easy bucket on a press break and De Soto made seven of its final eight free throws to put the game beyond reach.
"I don't think there was a more important game all year," Scott McElvain said. "Last year is kind of an overhang, so it was important to get the first one here and get everyone excited for the year."