Band aide
Hiring of new
LTMS

teacher brings changes
As the Lexington Trails Middle School band practiced Monday, a trombone player learned there was no slacking under the watchful eye of the school's new band instructor.
"I know the slide positions for trombone," Robert Foster said with trumpet in hand. "My trombone is in my office. I brought my trumpet because I like it, but I know how to play the trombone.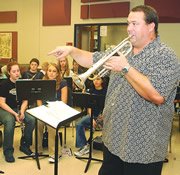 "So, no faking."
A trumpet specialist, Foster said he was comfortable playing all the instruments in the band, with a degree more expertise with those in the brass section. That could be expected given his impressive musical pedigree. His father, also Robert Foster, was band director at Kansas University for 29 years and is currently associate chairman of the university's music program.
Foster excelled in music and athletics in high school, earning scholarships to
KU in both music and football, playing on the Jayhawk football teams from 1984 to 1988.
"My parents were supportive of all my interests," he said. "But being raised in a band room helped instill the love of music and teaching."
The opportunity to become a better teacher lured Foster to De Soto when additional state aid created the opportunity to hire an additional band instructor.
"I did my student teaching here, so I was very comfortable with the district," he said. "I know the district is very supportive of music and the arts."
Foster joined the district this year as the Lexington Trails band instructor. But both he and De Soto High School instrumental music instructor Justin Love were excited about their new "tag team."
"This is a great situation," Foster said. "Mr. Love's schedule is flexible enough he can come during my band. My schedule allows me to help out at the high school.
"He can take an individual or section that is having a problem and solely concentrate on them while I work with the band. I can do the same thing at the high school, or we can change roles.
"The band programs that are the most successful are the ones where there are multiple teachers in the classroom. There are some programs in Texas where students will have private lessons and be pulled out of the classroom once a week."
Love said his and Roberts' teaching partnership would be heard in performances.
"Any time you get two people in a program the more you can do," he said. "We liken it to an assistant coach in basketball. There's extra eyes on what is happening and more opportunity for individual instruction."
The new relationship began Monday when Love worked with the middle school band's percussion section in the school's auditorium and Foster worked with the rest of the band.
The added help on the district's west campus and the modified block scheduling adopted at the high school this year has allowed the school to add a number of new music classes. Love said those include a class in music theory, a multi-media technology class, a percussion ensemble class and applied music designed to give those students who want to major in music in college advanced individual instruction in voice or an instrument.
The arrangement allows him to work with sixth-graders just learning their instruments and high school students looking for specialized instruction before majoring in music in college, Foster said.
Fortunately, the new instructor finds satisfaction in both teaching roles, from seeing the lights go on when a sixth-grader suddenly grasps a lesson to the enjoyment of listening to an accomplished high school student.
"I don't have to get worried about getting bored," Foster said. "I'm not focusing on one age group or one playing ability."
More like this story