De Soto shuts out generous Eagles
Wildcats improve to 4-0 as defense dominates in 25-0 road victory over Wellsville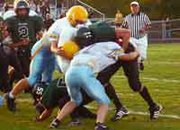 De Soto overcame a stingy Wellsville defense Friday with the help of an accommodating Eagle offense, earning a 25-0 Frontier League road win.
The 25-0 shutout win marked the first time in the Brad Scott era that De Soto started a season with four-straight wins.
"It means our football team has played a pretty favorable schedule," Scott said. "But we've also played some pretty good teams. Our program is in a place now where we want to compete game in and game out and week in and week out. We want to be one of those teams that if somebody beats us then they can say we beat a quality opponent."
The Eagles first five possessions ended on a fumble, interception, fumble, interception and fumble. De Soto parlayed those mistakes into 19 points and a cushy halftime lead.
"They turned the ball over, and we took advantage," Scott said. "It helped us a lot that they laid the ball on the ground, threw it all over the field, and then jumped offside."
Leif Goleman snagged two interceptions while Josh Oberhelman, Taylor Burnett and Luke Krehbiel pounced on Eagle fumbles.
Wellsville's misfortune became De Soto's fortune as the Wildcats began five of their seven first half possessions inside Eagle territory. They also began their first drive of the second half at the Wellsville two-yard line, going up 25-0 after just 26 minutes of play.
In the first half, De Soto's average starting field position was the Eagle 38-yard line. Wellsville, meanwhile, started its drives at about its own 18-yard line. All of De Soto's points came on drives following Wellsville turnovers. The Wildcats longest scoring drive came from 32 yards out.
Scott said the field position wasn't created solely by the turnovers.
"We've had some big-time success in the kicking game this year," he said. "Our kick coverage has been wonderful. The guys have done an excellent job of filling their lanes. We've forced five or six bad snaps or punts so far this year, because teams are worried that if they don't boom kicks then we'll make them pay."
When the defense wasn't getting takeaways it was making life miserable for the Eagle offense. Wellsville's deepest penetration into Wildcat territory was the 18-yard line. But Goleman mugged the Eagle offense for the first of his two interceptions on the evening, ending that threat.
With the shutout, the De Soto defense has put together a string of six-straight quarters and more than 83 minutes of scoreless football. The Wildcats haven't allowed a touchdown for 12 quarters and more than 147 minutes.
"Our defense has really put on a great stretch," Scott said.
The Wildcat defense penetrated and forced Wellsville into nine plays in which it lost yardage. The Wildcat offense had six plays in which they went backwards.
For the first time this season, an opposing defense slowed down the Wildcat rushing game. After running the ball for more than 300 yards in each of its first three games, De Soto was limited to 235 yards Friday.
"They like to do a lot of stuff differently than what we're used to," Scott said. "They like to cut block up front and gamble. Instead of getting the four-, five -or six-yard runs, we may go for a yard or lose a yard and then go for 15 yards.
"You also have to factor in that we had the short field for much of the game. We're not the type of team that will rack up a ton of yards. We don't pull out all of the stops. If we get up by three touchdowns, we're going to run the football and eat the clock. The only stat we care about is winning football games."
The Wildcats opened up the scoring on their second possession following Oberhelman's fumble recovery at the Eagle 28-yard line.
It took De Soto just six plays and less than three minutes to hit pay dirt when Neil Erisman ran in from 10 yards out. Following an Austin Bills' kick the Wildcats led 7-0.
Following Goleman's second interception, Erisman hooked up with Brandon Hurt late in the first half, giving De Soto a 13-0 advantage. Erisman found Hurt streaking down the left sideline and hit him in stride for 18 yards and the score.
Two minutes later, Erisman wowed the crowd when he danced and juked his way into the end zone from 21 yards out following Krehbiel's fumble recovery at the Wellsville 26-yard line.
The junior quarterback froze the Eagle defense when he ran left down the line of scrimmage, broke a tackle, turned right, headed back down the line of scrimmage, turned right again, hesitated again, and then cut up the field and out ran the Eagle secondary.
Goleman finished the scoring when he rammed the ball over from a yard out early in the third quarter following Burnett's second fumble recovery and a bad snap on a punt. The senior tailback led the Wildcat offense, which is without a 100-yard rusher for the first time this season, with 75 yards on 14 carries and a touchdown.
Tyler Farmer added 65 yards on 12 carries, while Erisman added 45 yards on nine totes of the ball. Dustin Ester contributed 26 yards on 10 carries.
Eagle running back Kyle Rush led all rushers with 78 yards on 22 carries. Josh Lamberd, Austin Bloss and Cody Gardner contributed 37 yards collectively for Wellsville.
De Soto, 4-0, tackles Anderson County at 7 p.m. Friday in Garnett.
"They have a couple of really, really good athletes left from last year's team," Scott said. "We're going to go down into a hostile environment, and that will be good for us. It'll help get us ready for our sub-state."