Smoker friendly
Zimmerman's Kill Creek Farm welcomes competitive barbecuing to De Soto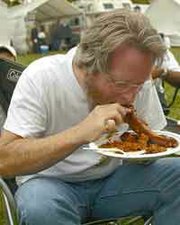 A tent with an entrance protected by a smoker and camaraderie provided three Leavenworth County men and a friend from Missouri with all the protection they needed against a chilly fall wind Friday afternoon at Zimmerman's Kill Creek Farm.
The four men were at the farm for a barbecue cookoff, an event Darrel Zimmerman added to his annual fall festival to commemorate its 10th anniversary. Their Dusty Roads Barbecue team was one of 25 that showed up with the Kansas City Barbecue Society-sanctioned competition.
In a statement that was echoed in the tents of other cookoff teams, Dusty Roads team member Martin Holyfield said competitive barbecue cooking "was just a hobby."
"Some people bass fish. Some people chase little white bass," he said. "We barbecue."
At a nearby site surrounded by men enjoying plates of barbecued ribs and a few beers, De Soto's Todd Schimke tended to preparations for the Cow Town Barbecue team.
He had been with the team for about five or six years after being introduced to the activity by the owner of Oklahoma Joe's team of SlaughterHouse 5, Schimke said.
"We just like to cook, have fun, and have people come by and eat," he said. "It beats being home and having momma telling me what to do."
Mommas, or at least women, weren't much in evidence in the team tents. One exception was Christy Howe, who was trimming a cut of pork for her husband, Kyle. It was the couple's first outing as the team of Howe-2-BBQ, she said.
There was an understood division of cooking labor in their Park Hill, Mo., home, Christy said.
"I'm the indoor cook, and he's the outdoor cook," Christy said as she trimmed the cut of pork that would go in the smoker late that evening for an all-night roasting.
"I'm just helping the cook. That's my job."
The couple speculated about the division that made barbecuing and grilling a typical male task. Barbecue was a "heavy" food that appealed to men, they agreed. Barbecue competitions were just another sport, Kyle said.
And there was the general ineptitude of men in the kitchen, Christy said.
"I don't know about other, but by the time I was 8, I'd pretty much figured out my dad didn't know where the salt was kept," she said.
The men of Dusty Roads had their own idea.
"Women are too fair-weather," Mike Hubbard said, suggesting they didn't like to spend hours in the heat and cold.
But Dusty Roads team members, who compete in about 25 cookoffs a year, said they were starting to see more women, including all-female teams.
Cookoffs were humbling experiences, no matter the gender of team members, Hubbard said. New team members, happy with what they produce in their backyards, find they have a lot to learn when they start competing. But cookoffs are the right place for that, because others are willing to share their knowledge and more, he said.
"If you run out of beer, they'll give one of theirs," he said. "Only one, though."
The goal of all teams present was to compile points that would get them into a draw for the American Royal Invitational in Kansas City. Mo. More points there might get them into a draw for the Super Bowl of cookoffs -- the Jack Daniels BBQ Country Cookoff in Lynchburg, Tenn., and a chance for its $10,000 prize.
"We wouldn't turn that down," Holyfield said. "We'd love to get some money someday.
"But just to get there would be great. We were at the American Royal Open earlier this year. We ended up in the middle of the pack, and that's not necessarily a bad thing."
Winning competitions is often a matter of being lucky enough to produce what the judges of particular events like, Hubbard said. Cookoffs are extremely competitive because all teams produce quality product, he and his fellow team members said.
"Everything you see here will be better than anything you'll get at a commercial restaurant," Jim Flora said. "We're not doing 200 pounds at once. We take time to baby it."
More like this story