Piper shuts down season for De Soto volleyball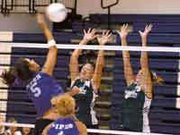 Piper used the intimidation of a big front line to subdue De Soto in Kansas 4A sub-state volleyball action Saturday in Eudora.
But not before the Wildcats took the first game by a 25-22 count when they slammed everything in sight back at Piper on every given opportunity.
"We were fired up in that first game," De Soto volleyball coach Lori Brooks said. "We were swinging hard and attacking and blocking everything that came our way."
Once the Wildcats got mugged a few times in the final two games,
De Soto went to more of a passive attack and started tipping the ball over the net. That just gave more artillery to the Pirates to fire back at De Soto.
"When we started tipping the ball, that's when they really started pounding the ball back at us," Brooks said.
De Soto did a good job of scoring points in bunches, especially when the Pirates had their big girls in the back row. The Wildcats managed to stay close enough in the second game, losing 25-20. But as the game wore on, Brooks said it seemed as though Piper's best hitter was in the front row forever.
It didn't help that the Wildcats missed seven serves in the three-game match. The forced rotation changes helped Piper's big girls get back in the front row sooner than Brooks would have liked.
With the 25-22, 20-25, 16-25 loss, De Soto fell to 0-3 against the 20-14 Pirates. It was the first time this season that De Soto took a game from the Pirates.
"They're a very solid team," Brooks said. "They have been on fire the last three or four weeks of the season. They were a confident bunch, and that's been a problem for us all season."
De Soto finished the season with a 16-19 record and a 5-7 Frontier League mark.
But Brooks noticed some steady improvement throughout the season for De Soto.
Lauren Hampton led the Wildcats with six kills on the day and was credited with three blocks. She also served seven points for the Wildcats, including two aces. Jackie Goleman added five kills and a stuff block for De Soto.
Clarissa Kopp chipped in with three kills, while Jessica Blankenship, Becca Davis and Roxanne Grizzle each added two. Davis was credited with three blocks and Kopp and Grizzle each had one.
Blankenship served eight points for De Soto with an ace. Sydney Tenney rifled serves over the net for six tallies, while Kayla Bader added five points. Sam Johnson and Jeni Hill chipped in with three and two points, respectively.
As a team, De Soto served 89 percent for the match by connecting on 56-of-63 serves. Serve receiving remained a problem for the Wildcats, as they connected on just 63 percent of their attempts.
The Wildcats were good on 83 percent of their sets during the match, and made it count on about 60 percent of their digs.