Soccer team ends up after down week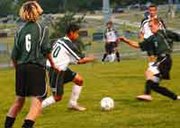 The first half of Tuesday's 9-0 win over Lawrence's Bishop Seabury didn't paint a real pretty picture for De Soto soccer fans.
But De Soto soccer coach Mike Murphy said he saw poetry in motion early in the second half, as the Wildcats scored eight second-half goals, pulling away from the Seahawks to break a two game losing skid.
"Sometimes we get into a funk," Murphy said. "But if we are doing everything right, we can look real good. That's what happens when you do things the way they're supposed to be done."
Look good is exactly what the Wildcats did in the opening moments of the second frame. According to Murphy's projections, the Wildcats scored five goals in about the first 10 minutes of the second half.
De Soto's first-half struggles inspired Murphy to pull players one at a time so they could watch and learn from the sidelines.
"We wanted to give them a different perspective," he said. "It gave them a chance to see how everything works, to see what we're doing differently."
Good ball movement was the key to De Soto's success in the second half, as was unselfish play. Of the nine goals scored by De Soto, seven of them came after assists by a Wildcat player.
Senior Jordan Hevel distributed three of those assists. Brady Seaman, Ben Moon, Zach Bader and Spike Delapena all were credited with assists as well.
Freshman Zach England was the leading scorer of the night with four goals. Hevel tallied two scores. Moon, Scott Baldwin and Delapena each scored a goal a piece, too.
Ben Smith and Jacob Sosna posted the shutout for the Wildcats but hardly had to break a sweat all night.
The nine-goal win came on the heels of two losses. De Soto lost a 2-1 decision Monday at Louisburg. Maranatha blew the Wildcats out Thursday by a 7-1 deficit.
Murphy said Tuesday's win was a bit of a carryover from the two losses.
De Soto trailed Louisburg 2-0 at halftime but appeared to be ready to make a run and avenge a 4-2 loss two weeks earlier.
Kyle Bray cut the deficit to one goal when he scored on a diving head shot that only Bray could score. The goal was scored off of a corner kick.
Then Bray was red-carded and had to sit the rest of the game, rendering the Wildcats shorthanded for the remainder of the game."That was disappointing," Murphy said. "I thought his energy level was great, and that was a great play. Now he has to find a way to stay on the field and help his team."
Thursday's six-goal loss to Maranatha came at the hands of the team Murphy said was possibly the best team De Soto will face all year.
"I hope we learned from watching them (Maranatha) do what they wanted to do," the coach said.
The lone De Soto goal occurred when Bader cut off the goalkeeper and accepted a pass from Bray that was aimed at the left post. Bader then headed the ball into the net from there.
The Wildcats (8-5) play at 4 p.m. Thursday in Eudora.