Razzle dazzle
Wildcat flag team puts on the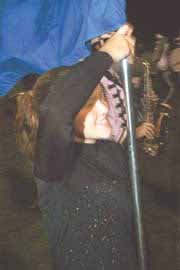 Dazzling can be dangerous.
Ask any member of the De Soto High School Dazzlers flag team and they'll tell you the same: Challenges abound for the eight-girl squad charged with adding color and sparkle to Wildcat Marching Band shows.
With poles nearly six feet long that carry draping swaths of fabric of various lengths, flags are naturally unwieldy.
"Oh, we all have been through flags hitting our heads," said sophomore Ashley Frieling. "We do have some battle scars from flags."
Sophomore Jamie Howard, the Dazzlers' team captain, described a recent run-in she had with one of the decorative props.
Several games ago, Howard said she found herself in an unexpected tight spot during the halftime show. She realized she couldn't go around a fellow Dazzler and, in a split second, decided to attempt ducking under her teammate's flag instead.
Her plan backfired.
Howard dipped, and her teammate continued on with the choreography, inadvertently bringing her flag down right on Howard's head.
"I was, like, bawling," Howard said. "But I kept a smile on my face the whole entire time. It was really hard, though."
Besides smiling no matter what, Dazzlers choreography includes marching formations, flag tosses and twirls, and some more dance-like moves and turns.
Howard and Frieling said team coach Keri Matthews, a former University of Kansas flag team member, was the creative force behind Dazzlers shows.
"It's amazing how she comes up with the routines for everything," Howard said.
Football season is the flag team's peak time of year, as they perform with the marching band almost wherever it goes. But the Dazzlers hope to work with cheerleaders and drill team members to do some winter sports performances this year, too.
The team practices for two hours after school Tuesdays and also with the band before each performance.
Dodging fast-moving band members carrying instruments in all shapes and sizes across a football field is sometimes tricky, because the two groups usually only practice once together for each show. Musicians don't always leave as much space for the flags as they're supposed to, so the flag team must think fast.
"You just have to work with it," Howard said. "And if you're doing a toss or something, you have to change it to something else."
Intertwined with instruments, the flags accent marching performances with movement and flashes of color -- a variety of colors, in fact.
Howard and Frieling said the team had about six sets of flags in different shapes and colors. From those, they choose the most fitting flags for each performance.
Flag tosses are probably the trickiest move, team members reported. Not infrequently does an airborne flag land where it's not supposed to.
Other challenges include counting to stay together during a show and getting a group of active high school girls together to practice their routines.
But for Frieling and her teammates, hard work pays off. She said her favorite part of flag performance was when everyone clicked.
"I think the best part is when we actually get the routine down, and we are all on cue, and you see the final performance," Frieling said.