Flex time
Yoga give De Soto fitness buff some breathing room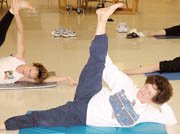 Throughout the hour-long session Saturday morning, Kim Adkins continually spoke over soothing recorded music to remind the six women in front of her of the purpose of yoga.
"Remember to breathe and relax," she said. "Don't hold your breath."
Yoga was about flexibility and relaxation, Adkins said. The goals were accomplished through controlled movements in which assuming the correct poses or positions was more important than repetitions, she said.
Adkins led six women through a routine that combined hatha yoga and Pilates during a class offered by the De Soto Parks and Recreation Department.
The session started with bending movements that had the women touching the floor and ended with them sitting as Adkins read a selection from a book that emphasized the importance of "happy thoughts."
As Adkins demonstrated the numerous poses in between, Jill Hemphill displayed the flexibility needed to assume the numerous yoga positions despite being "over 55."
"I was a physical education major in college with a dance emphasis," she said. "But it's been a long time since I did anything like this religiously. It's OK if you go slow."
Adkins repeatedly instructed class members to do only what was comfortable and demonstrated more moderate variations for each movement and pose. That was welcome at her Tuesday night class, which had an enrollment of about 20 men and women from 5 years old to middle age.
The flexibility and relaxation provided in the yoga class complimented the aerobics class she also offered through De Soto Parks and Recreation, Adkins said. An instructor at Dale's Athletic Club in Lenexa, she said she wanted to offer the classes since moving to De Soto two years ago.
Although women dominated the enrollment, yoga offered benefits to men, Adkins said. She has also taught in hospitals classes designed to help arthritis sufferers.
"It can help with arthritis and fibromyalgia," she said. "It can benefit your range of motion. It can help relieve leg and back pains caused by weak abdomen and hamstring muscles.
Her classes were longer than most videos and certainly more varied, Adkins said.
"I never do the same thing twice," she said. "I mix them up, making them easier and more difficult through the class. I work for a balance."
The yoga and aerobics classes started early this month. Adkins offered the aerobics class in the past, but this is the first time for yoga, she said.
Yoga classes are available at 7:30 p.m. on Tuesdays through May 1 and 9 a.m. on Saturdays though April 27, Adkins said. Participants can enroll in both sessions for $40 or a single session for $20. New class members were welcome, but Adkins said fees would not be pro-rated for remaining sessions.
"We'll offer them again this summer," she said.