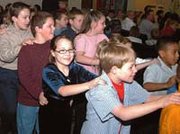 While De Soto High School students were down the street rehearsing one final time for their spring play, third-graders at Starside Elementary were making what was for most their on stage debut.
"You can already start to see kids standing out as performers," said Starside music instructor Rachel Mikel. "You know by the way they carry themselves when they're on a stage that they're meant to be there."
The third-grade program, "Move," was performed in front of a packed gymnasium. The show, which had been in the works since the students returned from winter break, featured a conga line, a line dance and hand dance inside a suddenly all-dark gymnasium.
Mikel, the second-year music instructor at Starside, assembled the theme-oriented programs at each grade level while on maternity leave last summer. Like many of the other programs at the different grade levels, Thursday night's program was designed to allow the third-graders to showcase talent in song and dance.
Like true professionals, the third-graders pulled everything together for Thursday night's performance despite what Mikel noticed as some typical pre-opening jitters.
"I try to teach them that stage fright is normal, even for the kids in the high school play," she said. "I've seen kids pass out at this age, so I just try to remind them to take a deep breath and not worry about the butterflies they are feeling."
The novice performers were instructed by the production staff to look at the back wall as a way to avoid scary eye contact.
"This is a great experience that they really need in order to prepare them for times in academics and public speaking where they will be asked to essentially perform for an audience," Mikel said. "They can learn a great deal here about audience behavior, and they begin to realize it's not so bad to get up in front of a group and perform.
"Hopefully, by middle school or high school this will have gotten them ready for choir, theater, debate, and a number of other activities they can take part in."
In her two years at Starside, Mikel has collaborated with physical education teacher Toni Cook to encourage the students to take part in a wide variety of stage performances designed to stretch their verbal and non-verbal repertoire. Last year's musically influenced play, "The Unity Tree," was followed with a show featuring popular dances from the decades past (fifth grade), an homage to the variety show of early television (fourth grade), as well as the "Spring Fling" first-graders are to perform in April.
"I want them to try new things, but I hope it's always a positive experience for them," Mikel said. "You see the ones who really embrace it -- they stick out, and you hope nobody squashes that enthusiasm in them for this kind of activity."
The value of being able to perform in front of classmates and parents goes a long way in what Mikel sees as the primary motivation for students who choose to take a chance on stage. Even for a third-grader, the excitement of a positive audience response can become a motivation for getting back on stage to earn that next laugh or another round of applause and approval.
"The students have done such an awesome job of overcoming times when it seemed like they were unprepared," Mikel said. "The performance on Thursday went off without a hitch just like the rest of the shows they've done.
"It's a great experience to see them pull together like they have and start to blossom into performers."