Art start
De Soto students' art on display in the Big Apple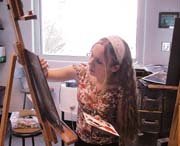 New Yorkers might see a few Wildcat faces around town, even though the students themselves are home in De Soto. The art student's work, which includes self portraits, is on display in the Big Apple.
The students are competing at the national level as finalists for the 2004 Scholastic Art Awards. Their works were selected last month from 3,865 student entries at the Western Missouri Regional Scholastic Art Awards at Penn Valley Community College. For the regional competition, De Soto High School students competed against 61 schools from western Missouri and northeastern Kansas.
The judges selected 100 pieces from the exhibit to compete in New York alongside entries from across the country. With their artwork already in the Big Apple, the local students can do little but wait and hope for the best.
Seniors Gonzalo Espinoza and RaShae McIntyre, and junior Ryan Kuster are being honored for their work.
"You just wait and wait until you hear something," Kuster said. "I'm excited, but I'll be OK whatever happens."
Kuster and McIntyre submitted self-portraits into the drawing and painting categories, respectively. Espinoza's entry was a clay sculpture from his sculpturing class he took as a junior. All three students have participated in classes offered through fine arts teacher Timothy Mispagel.
"I'm excited to see some of my students in the national competition for the second time since I've been here," Mispagel said. "My goal is to not force a subject on the kids if it's something they don't want to do. I don't want them working on something they're not enjoying."
The Scholastic Art Awards are part of a national program that celebrates the artistic talents of young people. The event hopes to increase the awareness and appreciation of artistic talent among youth throughout the country. The judging criteria of all works reviewed is technical proficiency, originality and emergence of a personal style or vision.
This year's national awards ceremony will be June 10 at Carnegie Hall. In June, the Corcoran Gallery of Art, in Washington, D.C., will house the national exhibition. The work awarded with a gold medal in excellence will go on a national touring exhibit for the next two years.
Kuster, who said he'd been gravitating toward the fine arts since his freshman year, was surprised to be accepted to this year's competition after failing last year.
"Mr. Mispagel assured me last year that I would make it," Kuster said. "When I didn't, I felt awful."
Kuster's disappointment haunted Mispagel, who said he felt personally responsible for having inflated the teen's hopes. As luck would have it, Kuster was contacted this year and told the good news of his selection to the New York showcase.
"I remember going to the Plaza art fair in Kansas City with my sister," Kuster said. "It would be nice to be able to go and see what's happening (in New York)."
Kuster hopes to get into graphic design with the goal to breaking into video game design.
McIntyre used pastels to give her self-portrait the touch needed to enter the national spotlight. Still a participant in Mispagel's independent art studies class, McIntyre is flattered with the compliments she has received about her work.
"The biggest compliment I've heard is from people who say they love my work and wish they had time to develop a (hobby) such as it," McIntyre said. "I feel very lucky to have something that I can do that allows me to create something as an individual."
McIntyre plans to enroll at Kansas University next fall to pursue a degree emphasis in illustration. Like her two colleagues, she would jump at the chance to find a way into an art school.
"It would be nice to find a way to attend an art college," Espinoza said. "Ever since I was a young boy attending art galleries in Mexico, I knew this is what I wanted to do."
More like this story