Overtime loss again ends Erisman's state quest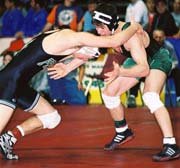 For the second year in a row, Neil Erisman's quest for a state championship came up short of its mark.
The sophomore grappling phenom, who won a national tournament last summer and has been successful in worldwide wrestling tournaments, fell to a familiar foe in the 4A 152-pound semifinals.
He settled for a third-place finish at last weekend's state wrestling meet in Wichita.
Despite earning the top ranking in his weight class this season, Erisman didn't allow disappointment to settle in his voice when Santa Fe Trail wrestler Justin Wiscombe pulled off what could be considered a mild upset. He didn't make excuses.
"Sure I'm disappointed," Erisman said. "But I can't do anything about it now. I could say, 'I should have done this or I should have done that.' But that won't do any good."
Erisman opened up the state meet Friday morning with a pair of pins over Clay Center's Kyle Allen (25-14) and Douglass' Mike Struble (20-5), before encountering his conference rival for the second time in less than two weeks.
Erisman handed Wiscombe his lone loss of the season, going into Saturday's state championship match when he knocked him off 3-1 at the Kaw Valley League meet in Bonner Springs nearly three weeks ago.
In that match, Erisman (27-2) was able to get a first period take down on Wiscombe. But Friday he wasn't able to get the job done.
"I couldn't take him down in the first period," Erisman said. "He's really tough -- he's hard to take down. I really needed that take down to get the win, and I just didn't get it."
Following the 2-1 loss to Wiscombe (38-2), Erisman had a long night of contemplating and pondering. But he was ready to roll come Saturday.
"I just tried to get a good night of sleep so I could come back out Saturday and take third," he said. "I went out there and tried to wrestle well and score as many points as I could each match."
Erisman admitted that was the game plan he should have stuck with in the match against Wiscombe, who finished second at the meet.
"I went out there and wrestled to win," he said of Friday's semifinal match. "Instead, I should have gone in there to wrestle well and let the rest take care of itself."
In Saturday's consolation semifinal, Erisman put himself in position to earn the bronze medal by knocking off Pratt's Lucas Kramer, who was ranked sixth in 4A at 7-4.
But in the match, Erisman suffered a high ankle sprain. The pain was obvious during his third-place match against Colby's Schuyler Sharpe.
"I just iced it and taped it up," he said. "It was killing me in the last match, but I fought through it."
Erisman defeated the fifth-ranked Sharpe by a 7-3 margin.
Four other Wildcat wrestlers qualified for the state meet in Wichita, but Erisman was the only De Soto grappler to earn a win.
For wrestlers like Adam Faircloth, Leif Goleman and Alex Mercer, the going was rough from the get go, however. They all drew ranked wrestlers in the first round.
"Some of the guys had pretty tough draws," Erisman said. "We were all pretty nervous, but we fought hard. I think he (coach Matt Jones) was happy with our showing, especially since we took a lot of kids to state."
Faircloth fell to Columbus' Caleb Stultz (26-15) right out of the gate by a 15-0 margin. Stultz was the fourth-ranked wrestler at 130 pounds and went on to take fifth place.
Faircloth (22-17) bowed out of the meet with a 7-5 loss to Scott City's Zachery Conine.
Goleman (32-9) drew Marysville's Russ Fitzgerald (33-3), and dropped his first round match by a 15-3 count. Fitzgerald, the third ranked wrestler going into the meet, took third place in Wichita.
Goleman's season ended at the hands of Douglass' Jon Dukes, 18-5.
Alex Mercer (20-16) went up against Marysville's Tyler Thoreson (26-7) to open state meet action. He fell to the sixth- ranked wrestler at 215 pounds to drop to the consolation bracket.
Thoreson went on to surprise everybody and take home the gold medal. Mercer fell to Scott City's Katt Cale by a 9-4 score.
Brandon Hurt (112) dropped his record to 18-17 when he lost to Jefferson West's Zach Michaelis, 14-9, and Wellington's Alex Meisch, 5-2.
Scott City edged out Abilene for the team championship by a 109-99.5 margin. Goodland and Columbus were a close third and fourth with 93 and 92.5 points, respectively. Ulysses rounded out the top five with 83 points.
More like this story