Scott's lucky seven
Coach blessed with 'hungry' summer leaguers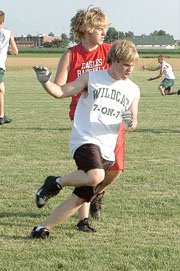 Since taking over the De Soto football program in 2000, Brad Scott's perspective of what the 7-on-7 summer football leagues mean to his football program and the upcoming season has changed.
It used to be that Scott and the rest of the Wildcat coaching staff used the summer games to teach the team how to win by using the word "competition."
"We tried to instill in our players the notion that no matter who our competition was, we still had to go out and win," Scott said. "We not only wanted to teach them how to win but also wanted to give them an opportunity to see what it felt like."
Since the Wildcats posted their first winning season (5-4) in the Brad Scott era last year, the Wildcat coaches are geared toward getting ahead of the game this summer.
"What we want to do now is install as much of our coverages and passing packages as possible," Scott said. "That way when we get into fall camp the kids should have a good idea of what we're trying to do. We want to get in a lot of reps for all of the kids."
The coaching staff will also take some time to evaluate the young players it has coming into the program this fall. Scott said he had a lot of kids joining the program and that he wanted to see what their talents were.
"We want to make sure we have kids in the spots they need to be in," he said. "We don't need to worry as much about the kids that have been in the program already. They know what's expected of them.
"We're just very blessed to have kids in this program who stay pretty hungry."
The coaches want to see who will take it upon themselves to be the playmakers on the team.
"We want guys on this team who are willing to step up and put their stamp on their position," Scott said. "We know certain players can do certain things. Now we want to know what each guy's thing is.
"By that, I mean is this a guy that is willing to really put a hit on somebody night in and night out? Or is their thing the ability to go up in a crowd and wrestle the ball away from somebody? What is that one thing that separates this player from the rest of the players?"
When evaluating his talent this summer, Scott said he looks for different skills and abilities at each position.
Scott's quarterbacks will be graded on their decision-making ability. Do they make the right decisions with the ball? Do they make the right throw? What about the smart throw? Those are some of the questions quarterback candidates will have to answer this summer.
As for his running backs and receivers, Scott said he wanted to see good routes and the desire to compete for the ball. He expects his skill-position players to fight for possession of the ball on each down.
On the defensive side of the ball, Scott wants players who aren't afraid to make a big play -- or a big hit. A defensive back in the Wildcat program is expected to challenge offensive players for the ball. He wants guys that aren't afraid to ballhawk.
The 7-on-7 league games are played Mondays in Gardner.