Catching on
Youngsters first in line as fishing opens at Kill Creek Park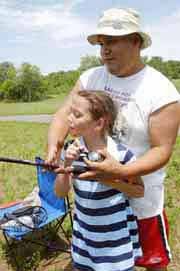 Watching his son Taylor cast a line Saturday from the banks of the lake at Kill Creek Regional Park, Brock Hartshorn predicted it wouldn't be long before the youngster got a bite.
Baited hooks were cast into the lake for the first time Saturday when the Johnson County Parks and Recreation District allowed those 15 years old and younger to fish. The lake will open July 1 to all licensed fishermen.
"I think it's great they let the kids fish first," Hartshorn said. "He's (Taylor) had this date marked on his calendar for a long time."
The De Soto boy had pulled 15 fish from the lake, his father said. The catch included 11 catfish, big- and small-mouth bass, wipers, sun perch and crappie, they said. Only the catfish, however, exceeded the lake's strict 18-inch creel limit, the elder Hartshorn said.
As his father was talking, Taylor hooked his biggest catch of the day. When he successfully reeled it in, it proved to be another catfish about two feet long. It was so big, the Hartshorns decided to call it a day after releasing another large catfish.
It was in hopes of curbing the lake's population of catfish that the Johnson County Parks and Recreation Department decided to open the lake to fishing, said Kill Creek Park manager Monte Feigel said. The large catfish compete for the same food as the bass and prey on other species, he said.
"They're getting of the size they're pretty good eating and catching," Feigel said. "Catfish of that size are predatory. They're not just bottom feeders."
The lake was far from crowded Saturday afternoon. Young fishermen could be seen on its shores in intervals of several hundred feet.
The lake and park appeared to be a well-kept secret, said Billy Ryun, of De Soto, who made his first visit to the park Saturday so that one of his two "fishing-crazy" sons could try his luck on the historic day.
The elder Ryun said he was impressed with what he saw on his first visit to the park, now open for its third summer.
"We were going to go to Shawnee Mission (Park), but when we heard they had something out here, we decided 'Why not?'" he said. "This size lake is great for fishing. You don't have motor boats running around.
"My kids just love to fish, mostly catch and release."
The short trip to Kill Creek Park also saved on gas, Ryun said. The visit would not be the family's last, Ryun said vowing to return for the opening of adult fishing.
"I'm all over that," he said.
Just down the bank from the Ryuns. Robert Stevens watched as his son Brandon and friend Cody Grimes prepared rods and reels to start fishing.
"This is the first time I've been out here," the older Stevens said. "I've been waiting to come out to take a look at it."
Feigel said he didn't attempt to count the number of weekend visitors to the park. But he said Saturday was busier than Sunday.
"Some of our weekends coming up will probably be busier too as those renting shelters bring a fishing pole for their kids," he said.
But Feigel said fishing at the park would really pick up once adult fishing was allowed July 1.
"I expect you're going to start seeing a lot more -- maybe the retired crowd who like to go out and fish but don't like to drive a long way. They are the ones really frothing for this."