Cralling at a hundred mph
Crall prowls local sprint car circuit with eye toward future Indy 500 berth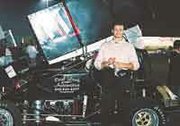 There isn't a sweeter sound in the world to Pete Crall than the rev of a 600-plus horsepower engine.
Throw into that mix several other cars with the same objective of getting from point A to point B the fastest, and you'll see what truly drives the recent De Soto High School graduate.
Crall understands what kind of risks are involved in his passion for driving sprint cars. He's been there and done that.
Last weekend in Knoxville, Iowa, Crall's attempt at a win was interrupted when another driver's misfortune became his misfortune. The driver spun out in front of him, and Crall had no place to hide.
Still, he makes his way into his-five point seatbelt, snaps on the harness, and puts on his helmet so he can do it all over again.
"You get really nervous and excited all at the same time," Crall said. "The thrill definitely overshadows the risks."
Crall drives what he calls a cage on an engine on wheels. Each time out in this 1,300-pound vehicle, he has a 650-horse power engine at his disposal.
To Crall, there is more to racing than just those risks. He also loves the competition.
"During the heat of a race, tempers flare," he said. "If something goes wrong, you just want to rip that steering wheel off of the car and throw it."
Crall's love for auto racing started at a young age when he and his father Mark made the trek to Knoxville on a regular basis. During the years, he has learned to respect that track and the drivers who roam it. Crall looks at Knoxville as a major step toward his ultimate goal of racing at Indianapolis.
"You have to earn your way there," Crall said of the Knoxville track. "But you can't be afraid to get in there. You have to run with the best to be the best. You have to get your feet wet; go wheel to wheel with them."
Besides Knoxville, Crall has raced at Lakeside Speedway (Kansas City, Kan.), Tornado Alley (Pleasanton), Thunderhill Speedway (Mayetta), Valley Speedway (Grain Valley, Mo.), State Fair Speedway (Sedalia, Mo.), U.S. 36 Speedway (Cameron, Mo.) and Lake Ozark Speedway (Eldon, Mo.).
"We look at the schedule to see where everybody else is running," he said. "We also take into consideration whether or not a race is close to home."
Crall runs in the Midwest Sprint Car Series and the WOW Sprint cars. He is 21st in the point standings of the MSCS with 372 points. But because he prefers to gain experience on different size tracks, Crall is 572 points from the top spot.
Since completing his high school track eligibility in May, the former Wildcat hurdler has been running a regular racing schedule.
"I work all week so I can run on Friday and Saturday again," he said. "Just so I can do it all over again."
When Crall arrives home from delivering pizzas, his father is usually still in the garage working on the car. Crall usually joins him until some time after midnight he said.
Crall estimated that he and his father, who owns the team, put in about three to four hours a day, unless of course the car had problems from the week before. Crall said the number could then double -- even triple -- in some cases.
Crall is sponsored by Paul Lamb Automotive, Kenny Bowers, Sonny Swindell and fellow driver Jim Dohrman.