On a roll
Team Chick keeps it local at Kansas Speedway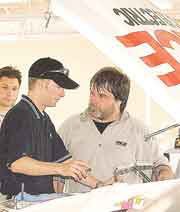 When you're the 17th truck to cross the finish line following the checkered flag at a NASCAR Craftsman Truck Series race, there usually isn't a whole lot of celebrating that follows.
That is unless you start the race at the back of the pack -- and on a bad set of tires to boot -- like Eric Jones did Saturday at the O'Reilly Auto Parts 250 at the Kansas Speedway in Kansas City, Kan.
Jones, who ran his first race as the new driver of the Team Chick Motorsports No. 74 truck out of De Soto, brings an aggressive yet smart style of racing to the local team. And it showed Saturday.
When rain washed out Friday's qualifying runs, Team Chick Motorsports caught a bad break. Because they hadn't run a race this season, they were forced to start in the 35th position.
"NASCAR set the field according to 'Owner's Points,'" Steve Chick Jr. said of his team's bad luck. "We were at the bottom of the barrel, so we were the last truck picked on the points."
That's where Jones used his aggressive style to make up some ground and pick up the Waste Management "Picking Up Places" Award for gaining 18 spots during the 167-lap race.
But what makes his feat even more amazing are the conditions he had to drive under. After just one lap, Jones detected that he was driving on a bad set of tires.
According to Chick, the truck was losing about two seconds a lap to the top four or five trucks.
"There are times when the truck won't do what you want it to do," he said. "Eric did what he could do with it. He drove it as hard as he could, but also took care of it while it was sick."
Eventually even Jones' driving skills weren't enough.
After 33 laps on a set of tires that had an abnormal pressure growth, the combined 12-time Grand National Champion in the IKF, WKA and Kart series had to throw in the white flag and pull in for a new set of tires.
"Once we got him back out there you could see the difference right away," Chick said. "That's when he was able to get after them and make up some ground."
Although Chick was excited with how last weekend worked out in the conditions in which they ran, he was quick to point out that running 17th every week wasn't an option for Team Chick Motorsports. They want more and they expect more.
"We're not happy with 17th," he said. "We need to be in the top 10. If we're going to get there we need to make sure we're really focused."
Jones' best finish on the Craftsman Truck Series circuit was a 15th-place run at Kentucky last year. It came at a time when Jones was still competing against -- and working out of a garage next to his new team.
That is monumental to Chick, because this weekend he and his boyhood friend will make their way back to that very spot as a team.
"Kentucky is very similar to Kansas," Chick said. "We're going back to the track that he (Jones) had his best run. We'll make very few changes this week and unload at Kentucky. I think we should do pretty well there."
Chick (crew chief) owns the racing organization with his father Steve Chick Sr. (shop foreman) and brother Joe Chick (fuel man and hauler driver).
The younger Chick said he appreciated being able to be part of a family-operated business, but he said at times it could be taxing.
"From last Tuesday to Saturday I was able to get about 10 hours of sleep, so that doesn't give me a lot of family time," he said. "My wife has been very patient to allow me to do this. Each one of us is totally dedicated to the success of this business."
He added that many of the members of the crew volunteered their time with hopes that if they do what they're told -- and do their job well -- they may be given an opportunity for a job in the future.
Part of what makes Jones a perfect choice as the team's driver is the relationship that the Jones' family has with the Chick family.
"He came from a family similar to mine," Chick Jr. said. "Our dads kept talking and that got us boys together. Our families are just a good fit."
Economics is another piece that binds the team together. Now Jones and Chick Jr. are able to work on sponsorships together.
"Being one of the smaller teams on the circuit, our time is taxed heavily," Chick said. "It's become an 'I-can-help-you, you-can-help-me' powerful relationship. He is an integral part of this team."
Besides his driving skills, Jones is also a hands-on guy in the shop. Chick Jr. described his friend and teammate as a skilled fabricator.
Team Chick Motorsports picked up SKC Electric and Standard Home Improvement as sponsors for its race Saturday at the Kansas Speedway, with the hopes of taking them along to Kentucky.
Chick Jr.'s wife, Jennifer, also sponsors the team through her accounting firm JRC CPA LLC.
With the sponsorships the team has drummed up, Jones and company hope to run elsewhere. But their appearance at these races depends solely on sponsorships and funding.
The team then hopes to go full-time next season, and in the future, their goals are to run in the Nextel Cup Series and in the Busch Series.