Streetside Eden
Smiths' hard work has backyard blooming with color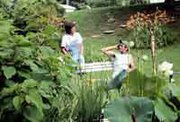 Scott Smith said his wife, Jackie, taught him something about himself.
"I didn't even knew I was a flower guy," he said. "Now I go to work and tell the guys 'You ought to see my lotus.'"
The lotuses grow in a fishpond that is part of the Smith's backyard garden. The pond shares the garden with a flower-covered arbor and a landscaped slope that runs along 82nd Street.
"When we were first married I was living in a basement," Scott said. "She moved in with a house full of plants. They all died. I've been paying for it ever since."
The payback started in earnest when the Smith's moved to their home on 82nd Street seven years ago. The house, built on two large lots, attracted both Scott and Jackie.
The previous owners had done a good deal of landscaping, and Jackie was anxious to add to it from the ideas she had seen in other gardens or magazines, she said. All the while, she was thinking of one thing in particular.
"I wanted the fish pond," she said. "That took a lot of convincing. I told him just dig a little hole."
Scott laughed at the "little hole." People thought they were putting in a swimming pool when they started digging, he said.
The pond was completed three summers ago, Jackie said. It was now home to numerous water plants, koi, goldfish and one walleye. She has found she doesn't have to buy plants for the pond.
"Water plants grow so fast, people share them with you," she said.
The couple's work now is focused on the street slope. They've planted flowers behind a low limestone wall and timbers that terrace the steep drop from the street.
Those flowers add to the color of the columbine, Orangeman lilies, roses and other brightly blooming flowers in the flower garden. All that color, coupled with the added traffic on 82nd Street because of road construction downtown, has led to the garden's discovery by many De Soto residents.
"We've had as many as five people stop on a Saturday afternoon to ask about it," Scott said. "That's kind of flattering, except when you're trying to work."
The hill has been the focus of the Smiths' efforts this spring and summer. Although Jackie said she didn't have a grand plan for the garden, she admitted the next project was taking shape in her imagination. It would be neat, she said, to have a stream run down the hill, perhaps over a rocky waterfall, to the pond.
It might be more payback for Scott, but he has found he gets paid back for helping with his wife's passion.
"She's done a great job with it," he said. "It's great here in the morning when it's nice and quiet with no traffic and to have a cup of coffee."