Heinen ends slump as Cats top Gardner
Allie Heinen reestablished herself in Tuesday's 49-41 nonconference home win over Gardner-Edgerton.
Not only was she a force offensively with a game high 20 points, but she also dominated defensively and on the boards.
"She caught the ball all over the place tonight," said De Soto coach Dwight Spencer. "She scored down low, and when she had the opportunity she took the ball and squared up on the high post. She made herself available to catch the ball tonight. She was solid at both ends of the floor."
Even when she wasn't in position to make a play, Heinen found a way to get the job done.
"She's always solid defensively," Spencer said. "She usually puts herself in the right spot. But even when she wasn't there tonight, she still did a great job of getting a hand on the ball and keeping it alive until she could grab it."
Her dominating performance came on the heels of a slump that saw her struggle offensively. Spencer said teams had been collapsing in on her every time she touched the ball. But against the Trailblazers, Heinen did an excellent job of getting into open space.
"She had been locking herself up in the low post recently," the coach said. "So we talked to her about stepping out and catching the ball. The change helped her put herself into position to dominate inside."
While Heinen was controlling the game inside, guard Amy Petty was taking care of business from the outside. The junior connected on four treys in the game, opening up the middle for Heinen.
A lot of Petty's success from the outside was because of some great coaching by the Wildcat staff -- especially Spencer's assistants, who drew up a play that freed Petty to do her thing.
"They were running out of a 1-1-3 defense and their middle person wasn't committing," Spencer said. "She went where the ball was. We screened her and the baseline. As a result there wasn't anybody else to come out on Amy.
"She did a great job of draining the open shot and made us look good."
Laurie Wilson didn't score a lot of points against the Trailblazers. In fact, the senior managed just four points on the night, but they were big ones.
The Wildcats opened up a 12-point advantage in the third period, but the Trailblazers cut the lead back to eight points and regained the momentum.
Wilson then single-handedly put the Wildcats back on track by scoring on back-to-back possessions, ending the threat.
Despite foul trouble by Lisa Lambert, Kira Gonzalez and Emily Baker -- as all three picked up two fouls a piece in the opening period -- the Wildcats still bolted out to a 14-6 lead.
The Trailblazers scored the final four points of the opening period, cutting the deficit to four points after a period of play.
With the win over the Trailblazers, whom Spencer considers the best team his team has faced so far this year, the coach liked the momentum De Soto was carrying into next week's Louisburg tournament.
"This was a big win for us," he said. "It was huge for us to win this one and play as well as we did."
Before heading into the tournament, De Soto (7-1) plays Piper at 7:30 p.m. Thursday.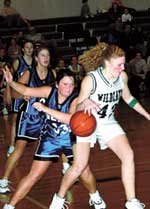 De Soto 49,
Gardner-Edgerton 41
De Soto (7-1): Lisa Lambert 1 0-2 2, Amy Petty 5 1-3 15, Becca Davis 2 0-0 4, Emily Baker 1 0-0 2, Kira Gonzalez 1 0-1 2, Laurie Wilson 2 0-0 4, Allie Heinen 6 8-9 20. Totals 18 9-15 49.
Gardner-Edgerton (6-4): Katie Berg 3 0-0 6, Katie Morrison 1 0-1 2, Kim Zahner 1 0-0 2, Jessica Stewart 2 0-0 5, Amber Howard 1 0-0 2, Erin Johnson 1 3-4 5, Sierra Shore 2 1-2 5, Kayla Byler 2 1-3 7, Ashley Morgan 1 5-6 7. Totals 14 10-16 41.
DHS 14 -- 12 -- 16 -- 7 49
GE 10 -- 12 -- 08 -- 11 41
Three-point goals: Amy Petty 4; Jessica Stewart, Kayla Byler 2.