Greeting the monkey
Yaus celebrate arrival of Chinese New Year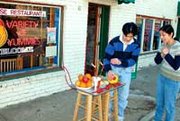 As their family and friends in Hong Kong started a 10-day holiday from work to mark the Chinese New Year, Thomas and Sapsorrow Yau celebrated the biggest holiday of their homeland with a small ceremony in front of their De Soto restaurant, Variety of Yummies.
"The ceremony (was) to give thanks for good health and continued good health in the New Year," Thomas Yau said. "We will try and go out (as a couple) to eat traditional dishes like fish, lobster, chicken, and vegetables. All the entrees symbolize a message for the New Year. But there's not a lot of time to celebrate the holidays here."
There will be no vacation for the Yaus. They will stay busy running the restaurant with the division of labor that has Thomas in the kitchen preparing the lunch and dinner menu and Sapsorrow producing the baked goods the eatery offers. But more than time off, they said they would miss sharing their homeland's biggest holiday with friends and family.
"It's hard," Thomas said. "It would be like someone from De Soto going to Asia during Christmas. You would know it's Christmas, but there is no one around you that realizes it."
The Chinese calendar marks 2004 as the year of the monkey, one of 12 signs that make up the Chinese astrological cycle. Those born under the sign of the monkey are said to have tremendous intelligence. The calendar takes bold steps of even predicting that these persons will be very savvy when it comes to the art of politics.
Holiday traditions call for married couples like Thomas and Sapsorrow to be generous to those around them. This means giving money to Chinese children and single adults.
Thomas said he didn't expect to see many Chinese children in De Soto in the next two weeks. However, if he does, then he will be sure to stay true to tradition and ante up a sum of money to that child. Otherwise, the couple will only have to give money to their son.
"The Plaza (in Kansas City) may be having a celebration, but we will not likely get to attend this year," Thomas said. "It's nice having Kansas City so close because you do get to experience Chinese culture. It's not as big as having a Chinatown in California, but it's nice to have things nearby."
But the couple is now at home in De Soto and determined to stay there.
"In a small town you have to do more in order to stay around," Thomas said. "The combination of traditional Chinese food and the bakery is what keep us competitive with other places. When one side isn't doing so well, the other keeps you going. At Christmas, business was slow for people eating out, but they were still ordering a lot of pies and cakes for the holidays.
"We've come a long way here, since I first arrived in Hays, Kansas. I would make the six-hour round trip to Wichita every couple of weeks just to find Chinese food. It feels good to be here in De Soto, with family, and bringing Chinese culture to the area."
More like this story