Erisman returning to avenge state loss
De Soto sending five wrestlers to Wichita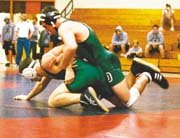 Moments after his first round loss to Baldwin's Brandon Cone, Alex Mercer found himself searching for answers. His confidence reeling, Mercer knew it was going to be a tough road to get back to the consolation finals and earn a trip at the state tournament.
Mercer wrestled Cone at a tournament in Baldwin City earlier in the year and came away with a one-point decision. Despite the close match, he admitted that he looked past his 215-pound opponent.
"I thought he'd be a pushover," Mercer said. "I thought I had him figured out. I was physically there, but I wasn't mentally there."
Mercer knew that he could have made the road to the Kansas 4A state tournament easier had he gone through the winner's bracket. If only he had won that first match, he would have needed to win just two more matches to secure a berth to Wichita.
Instead, he faced the challenging task of winning four matches on Saturday against some of the better wrestlers in the region.
Mercer's confidence was still broken Saturday going into his first-round consolation match against Tonganoxie's Aaron Adcox. The junior, who has come around late in the year, defeated Adcox at the Kaw Valley tournament by an 8-6 margin a week earlier.
"I didn't think I'd get past my first consolation bout," Mercer recalled. "But I prepared as if it were my last match. I had to take them one match at a time from then on."
Once he took the mat Saturday and posted that first win, a pin over Adcox, Mercer's confidence began to soar. He followed that triumph with a 6-3 decision over Bishop Ward's Pete Gomer and a 14-3 major decision blasting of Cone in the consolation semifinals.
"I went out and treated it like any other match," Mercer said of his bounce-back win over Cone. "I learned that even if I had beat him or someone else before, I still had to treat the match as if I had never wrestled them before."
Mercer wrapped up third place with a confidence-boosting pin of Spring Hill's Robert Ebenstein.
Four other Wildcat wrestlers qualified for the state tournament by placing in the top four in their respective weight classes.
Neil Erisman will be making his second-straight trip to state. After a just-missed effort at 145 pounds as a freshman last year, the top-ranked Erisman is ready to take home the hardware this year at 152 pounds.
Last year, a controversial talling call gave his finals partner, Eric Luedke, of Colby, an extra point, sending their match into overtime. Luedke then threw Erisman for a takedown and the 3-1 decision.
"I'm going to use last year as a motivator this year," Erisman said of his near miss. "I'll just try to wrestle my best and hopefully come out on top. I know that if I've worked hard and prepared myself, I'll come out where I'm supposed to."
Erisman posted a technical fall win over Basehor-Linwood's Will Peterson, beginning action Friday. He then pinned Atchison's Alex Garcia and Hiawatha's Kyle Jimeson, getting to the championship match.
The sophomore then shut out Spring Hill's Derek Trammell 5-0 in the finals.
"He was a good wrestler, but a little unorthodox," Erisman said. "It's hard to wrestle a tall lanky wrestler because they tend to do weird stuff. You're not sure what to expect. They're usually not as strong but maybe a little quicker, so your strength and technique is important."
Adam Faircloth (130), Leif Goleman (171) and Brandon Hurt (112) also qualified for the state meet that starts Friday in Wichita.
Trevor Leahy probably should have earned a nod as well, but a tough slate ended his season earlier than he would have liked. He wrestled against three of the four grapplers that earned a berth to Wichita.
He major decisioned Lansing's Sean Flynn (30-7), who earned fourth place at Hiawatha, by a 17-8 decision in the quarterfinals.
Leahy then gave Spring Hill's Cory Bloodgood (33-4) his only scare of the tournament before falling to the eventual champion by a 13-11 margin in overtime. A 10-0 major decision loss to Basehor-Linwood's Cody Bell (34-5) then ended his season.
Hurt (18-15) opens state tournament action with a match against Jefferson West's 112-pounder Zach Michaelis (19-6). Faircloth's (22-15) first-round foe at 130 pounds will be Columbus' Caleb Stultz (23-13), who is ranked third by the Kansas Wrestling Coaches Association.
Erisman (23-1) opens with Clay Center's Kyle Allen (25-12) at 152 pounds. Goleman (32-7) meanwhile has a tough draw in Marysville's fifth-ranked senior Russ Fitzgerald (29-2).
Mercer (20-14) takes on Marysville's Tyler Thoreson (22-7) in opening round action at 215 pounds.
The state tournament concludes Saturday in Wichita.